Colonising Sinhalese swindle resources while sanctions apply to resettled Tamils
Fishing is completely banned for 'resettled' Tamils of the villages, Kokku'laay, Karainaadduk-kea'ni and Pu'liya-munai of the Ma'nal-aa'ru region of Mullaiththeevu district, where Colombo is creating a new Sinhala division in the name 'Weli-oya.' Sinhalese and Muslims brought in to the area now totally monopolise fishing traditionally carried out by Tamils in their land. The 'resettled' Tamils find fishing camps of the colonisers within their very villages when they returned after displacement by war. The Sinhala fishermen who earlier had only seasonal camps have now permanently settled in the strategic Mukaththuvaaram (mouth) part of the Kokku'laay Lagoon. They have now come with their families and genocidal Colombo is now helping then to build permanent houses.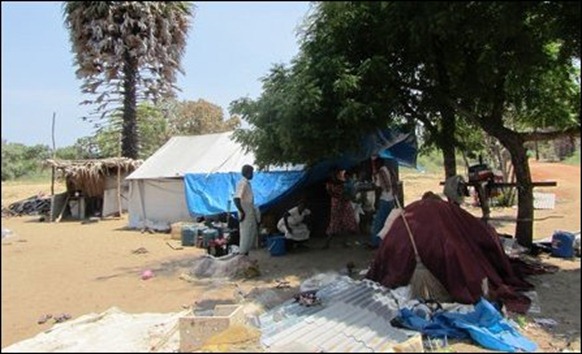 Life of resettled Tamils in Kokku'laay while permanent houses are built for the families of colonizing Sinhala fishermen
The river of Kokku'laay Lagoon is famous for its crabs of export value. Fishing them using boat is prohibited in the Kokku'laay Lagoon, which is a sanctuary. But the Sinhala fishermen numbering around 300, who have now colonized the Mukaththuvaaram (mouth) part of the lagoon use boats twice a day in the mornings and evenings to wipe out the crabs and prawns in the river of the lagoon.
The resettled Tamils, especially of the Pu'liya-munai village who were traditionally depending exclusively on fishing in the river of Kokku'laay, are not permitted now to enter into the waters. If they venture to get in, the Sinhala and Muslim intruders attack them.
The occupying Sinhala military and the SL minister Rishaad Badiuddeen support the intruders.
Due to fear for life the resettled Tamils have abandoned their fishing.
The Sinhala and Muslim intruders do not care for any prohibitions in the Kokku'laay Lagoon Sanctuary.
Meanwhile, the deep-sea side of Kokku'laay is completely forfeited to the Sinhalese.
Another rich deep-sea fishing coast, Valaip-paadu in Mullaiththeevu, known for its seine fishing has also now completely gone into the hands of the Sinhalese. Earlier it had seine beaches traditionally allotted to local fishermen as well as fishermen from Mayiliddi in Jaffna and Udappu (a Tamil village) in Puththa'lam.
From Mullaiththeevu to Kokku'laay, the entire coast is now a monopoly of Sinhala fishermen who have come with hundreds of boats, while the resettled Tamil fishermen of the land cannot get into the waters.
The Tamil fishermen have lost their boats in the war and the resettled among them now try for their subsistence with hand-nets.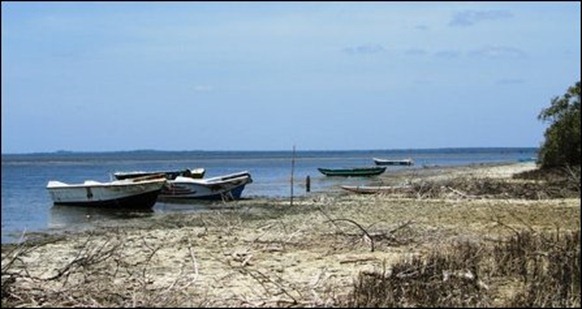 Boats of Sinhalese in the Kokku'laay Lagoon sanctuary where fishing by boats are prohibited
(For updates you can share with your friends, follow TNN on Facebook, Twitter and Google+)