Fox 'sought funds' from UK Tamils
The Former British Defence Secretary Liam Fox who was forced to resign is accused of seeking funds from wealthy Tamil businessmen.
Dr Roger Srivasan says he met Dr Fox few times accompanying an opposition parliamentarian visiting London during 2007-2009.
Dr Fox requested him to introduce wealthy Tamils in UK at a time the Sri Lankan government was accusing the Tamil disapora of funding the Tamil Tigers, Dr Srivasan told BBC Sinhala service.
There was no immediate response from Dr Fox's parliamentary office.
The former president of the UK branch of Sri Lanka's main opposition United National Party (UNP), has accompanied Dr Jayalath Jayawardene, MP, to meetings with Dr Fox in which his friend Adam Werritty was also present.
Werrity as 'advisor'
The UNP delegates were expecting to update Dr Fox on Sri Lanka's human rights situation during the height of the war.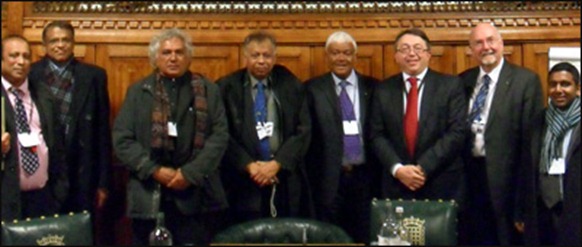 Their last meeting was held in 2009 before the Sri Lankan government declared its victory over Tamil Tigers. Dr Fox was the shadow defence secretary at the time.
Defence Secretary, Liam Fox has disclosed to the House of Commons that within the period of six months since 2009, a sum of £7378 was donated by the Sri Lanka Development Trust (SLDT) and High Commission for Sri Lanka in the UK for his travel and accommodation in Sri Lanka.
The responsibilities of the Trust set up by himself was later handed over when appointed as the defence secretary, Dr. Fox declared in the Westminster parliament, last week.
He resigned after it emerged that Mr Wirritty, who had no official position, was present in his overseas trips including Sri Lanka.
"Adam was present throughout our meetings with Liam Fox and he was also taking part in the discussions we had. He was introduced to me as the advisor to Dr Fox," Dr Srinivasan told BBC Sinhala service, Sandeshaya.
'A lot of money'
Both of them were very interested in forming a business venture rather than listening to their concerns about rights violations in Sri Lanka, says Dr Srivasan.
Their plan seemed to be to form a business venture in Sri Lanka together with Tamil entrepreneurs in UK, he says.
"Dr Fox encouraged me to forge a relationship with Adam who would liaise with him on these issues."
He says he was "appalled" to witness the response by a leader of the then main opposition in UK to the human rights issues in Sri Lanka.
"At one point Dr Fox told me that there is a lot of money to be made through these joint ventures."
Dr Fox has said, according to Dr Srivasan's recollection, that "he would love to have a beautiful place overlooking the beach," in an apparent remark on buying private property in Sri Lanka.
The Sri Lankan government has, meanwhile, expressed shock and dismay over the resignation of Liam Fox.
"Now that Dr Fox had quit, it would be pertinent to inquire into the relationship between UK politicians and LTTE operatives," a government spokesperson is quoted by The Sunday Island.
The UNP, meanwhile, has demanded an immediate inquiry into the role of the Central Bank governor in setting up SLDT.
Dr Harsha de Silva, MP, told BBC Sandeshaya that it is important the government investigate Ajith Nivaard Cabral's involvement in the NGO.
(For updates you can share with your friends, follow TNN on Facebook, Twitter and Google+)