Libya's Col Muammar Gaddafi killed, says NTC
BBC's Gabriel Gatehouse in Sirte: "I have spoken to the man who says that he captured him… he was brandishing a golden pistol"
Libya's ex-leader Col Muammar Gaddafi has been killed after an assault on his home town of Sirte, the transitional authority's acting prime minister says.
Mahmoud Jibril told a news conference in Tripoli it was time to launch a new, united Libya.
Video footage has been broadcast around the world showing a battered body claimed to be that of Col Gaddafi.
He was toppled in August after 42 years in power. The International Criminal Court has been seeking his arrest.
Golden gun
After a day of conflicting reports and rumours, Mr Jibril told the news conference: "We have been waiting for this moment for a long time. Muammar Gaddafi has been killed.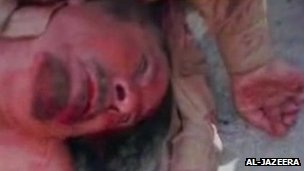 "I think it's for the Libyans to realise that it's time to start a new Libya, a united Libya, one people, one future."
Grainy video footage had earlier been circulating among NTC fighters appearing to show Col Gaddafi's corpse.
The video shows a large number of NTC fighters yelling in chaotic scenes around a khaki-clad body, which has blood oozing from the face and neck.
Another video broadcast by al-Jazeera TV showed a body being dragged through the streets which the channel said was that of Col Gaddafi.
Nato, which has been running a bombing campaign in Libya for months, said it had carried out an air strike earlier on Thursday that hit two pro-Gaddafi vehicles near Sirte.
It was unclear whether the strikes were connected with Col Gaddafi's death.
Earlier, NTC official Abdel Hafez Ghoga told AFP: "We announce to the world that Gaddafi has been killed at the hands of the revolution.
"It is an historic moment. It is the end of tyranny and dictatorship. Gaddafi has met his fate."
An NTC fighter told the BBC he found Col Gaddafi hiding in a hole in Sirte, and the former leader begged him not to shoot.
The fighter showed reporters a golden pistol he said he had taken from Col Gaddafi.
Arabic TV channels showed images of troops surrounding two large drainage pipes where the reporters said Col Gaddafi was found.
NTC supporters gathered in towns and cities to celebrate the reports of the colonel's death.
Groups of young men fired guns in the air, and drivers honked horns in celebration.
(For updates you can share with your friends, follow TNN on Facebook, Twitter and Google+)