'Hundreds tortured' in police custody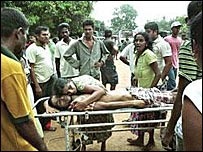 Hundreds of people were tortured in police custody since January this year in Sri Lanka, international human rights groups say.
The Asian Human Rights Commission (AHRC) said it has documented nearly 100 cases of torture and killings in police custody.
Panadura based Janasandaya has documented at least 100 more cases, AHRC's Basil Fernando told BBC Sandeshaya.
"There have been cases of torture victims describing their harrowing tales in youtube," he said.
"This is only the tip of the iceberg that is police torture in Sri Lanka," he added.
'12 people killed'
The fact that no information could still be gathered from the north and the east, he said, due to what he called the fear and militarisation of the region.
Names of 12 people killed in police custody since January have been submitted to the UN committee on torture which is scheduled to release a report on Sri Lanka next month, according to the AHRC.
Mr Fernando adds that no legal measure can be taken against the perpetrators of torture in the current law and order situation in Sri Lanka.
Although there are legal remedies including filing a fundamental rights petition, he said, those are currently been reduced to mere words which have no practical sense.
The AHRC earlier said it documented 1500 cases of torture in police custody since 1998 in Sri Lanka.
'No torture'
Out of those 323 are of serious nature, according to the AHRC.
"The most notable finding of this report is that almost all of the victims whose cases were summarised were randomly selected by the police to be arrested and detained for a fabricated charge," the report said.
The watchdog also accused the two recent Attorneys General, CR de Silva and Mohan Peiris, of stopping referring police torture cases to special police unit formed for the purpose.
The lack of effective investigative capacity by the human rights commission, absence of witness protection and the supremacy of the executive above the judiciary are main reasons highlighted by the AHRC for the lack of investigation on torture in Sri Lanka.
police spokesman, SP Ajith Rohana, told BBC Sandeshaya that no torture allegations have been proved against the police.
"According to Torture Act, even courts have shown that most of these allegations do not constitute torture," he said.
Until a court of law decides, he said, nobody can call any death in custody as murder.
(For updates you can share with your friends, follow TNN on Facebook, Twitter and Google+)