Australia wants UN rights body to probe S. Lanka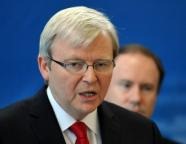 Australia Wednesday urged the UN rights watchdog to probe alleged war crimes in Sri Lanka, ramping up pressure ahead of a meeting between the two countries' leaders at Commonwealth talks.
Australian Foreign Minister Kevin Rudd said the UN Human Rights Council must address accusations that Sri Lankan troops killed tens of thousands of civilians in their final offensive against Tamil Tiger separatists in 2009.
He also said Sri Lanka, which strongly denies any wrongdoing by government forces, should investigate the claims as part of its own Reconciliation Commission report, due out next month.
"It is of fundamental importance that the upcoming Reconciliation Commission report deal with various questions which have now been raised in the UN report on allegations of human rights abuses in Sri Lanka," Rudd said.
"Australia's national position is that the Human Rights Council also needs to revisit its earlier deliberations on this matter."
Rudd's comments set the scene for a tense bilateral meeting between Prime Minister Julia Gillard and President Mahendra Rajapakse in Perth on Wednesday ahead of the Commonwealth Heads of Government Meeting (CHOGM) starting Friday.
"Clearly, the courteous thing for me to do is to have the discussion with him first rather than publicly canvas matters which may be raised in that discussion before I have it," Gillard told reporters ahead of the meeting.
"But I have been clear about Australia's position in relation to allegations of human rights abuse in Sri Lanka. We believe that this is a serious question."
Commonwealth countries such as Australia and Canada have been vocal in their calls for Sri Lanka to address claims of human rights violations, placing the issue high on the agenda at the 54-nation grouping's two-yearly meeting.
Canadian Prime Minister Stephen Harper has threatened to boycott the next CHOGM summit, scheduled to be held in Sri Lanka in 2013, unless Colombo takes action.
Gillard said Australia was not planning a similar boycott, although Rudd stressed that all countries attending the meeting of mainly former British colonies in Perth were free to raise concerns with Sri Lanka.
"It will be a matter for individual governments on how they view matters unfolding in Sri Lanka between now and when that next CHOGM is held," Rudd told reporters.
"I'm sure our friends in Sri Lanka are mindful that there are a range of views on this across the Commonwealth."
(For updates you can share with your friends, follow TNN on Facebook, Twitter and Google+)