TNA MPs advocate for Tamils rights in U.S. capital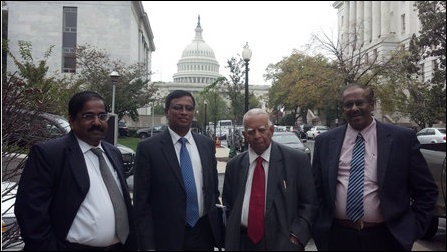 Four Tamil National Alliance (TNA) Members of Parliament visiting the U.S. on an invitation by the State Department arrived Tuesday night and have completed two days of meetings at the State Department and with Congress persons including members of the Sri Lanka caucus, sources close to the MPs said. The team led by Parliamentary group leader Mr Sampanthan said that they were aware of the political significance of this unique gesture by the State Department in inviting a non-State political party and that they would use every opportunity available to articulate Tamils position to the decision makers in Washington.
The visiting TNA delegation included Rajavarothayam Sampanthan, Maavai Senathirajah, Suresh Premachandran and M.A. Sumanthiran.
Mr Sampanthan said that the team would prepare a press statement on the nature of the discussions held and the positions articulated by them as representatives of Tamils.
After further meetings in New York, some members are scheduled to travel to Canada.
The group is scheduled to return to Sri Lanka end of next week.
(For updates you can share with your friends, follow TNN on Facebook, Twitter and Google+)