US Congressman's 'Sri Lanka interest' surpasses care for own constituency
US Congressman of the Democratic Party, Heath Shuler, 'sacrificed' the interests of his own constituency in order to visit Sri Lanka last month and give a clean chit to the genocidal regime of Rajapaksa. He was absent at his own city Asheville in North Carolina, when Obama visited the city on October 17. He stands for re-election in the constituency next year. This was Shuler's second visit to Sri Lanka since the end of war in 2009 and both his visits were paid by the Colombo regime. According to the US media reports, Shuler believes that the US could learn a lot from the diligence and triumph of Sri Lanka and he was cited saying "Sri Lanka is a long-time ally of ours and is accomplishing some incredible things right now." Shuler, a businessman by profession, finds progress "tremendous" in the island. "I didn't see any current evidence of human rights issues," Shuler has told media.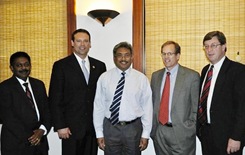 Shuler was on a visit to Sri Lanka along with fellow Congressmen, Jack Kingston and Ben Chandler on a 'fact-finding mission' paid by Sri Lanka and coordinated by the US State Department under the Mutual Educational and Cultural Exchange programme.
The US State Department coordinated visit is "in advance of the release of the Sri Lankan's "Lessons Learnt and Reconciliation Commission" report and to see the progress the country has made since the end of its civil war," Shuler was cited by the US media this week.
Shuler is said to have travelled to areas considered questionable by human rights groups and he claimed meeting people from all political parties and groups.
"I visited Internally Displaced Persons (IDP) camps, I've spoken to both opposition Tamil leaders and government officials and people from all political parties and groups, and I didn't see any current evidence of human rights issues," Shuler said, adding that "Today, Sri Lanka has largely free and fair elections, and the government has resettled nearly all of the country's 300,000 displaced persons and is working to remove the last of the land mines."
Shuler presented a favourable picture on Colombo's willingness to improve on accountability for those who died and missing as well as in rebuilding homes and economy.
Shuler said nothing on political solution.
The Sri Lankan State and the regime of Rajapaksa that committed 'genocide without witness' to win a war and continue committing structural genocide to erase the Eezham Tamil nation and its national question in the island, harps on 'friends' in the international Establishments to shield all the crimes. The 'friends' who are the real architects of the whole course guarantee the bailout and silencing the international system.
Only the tip of the iceberg was exposed when the British Defence Secretary had to resign recently on his Sri Lanka connections.
Brittney Parker, Staff Writer who reported Shuler's Sri Lanka visit in the US local media The Macon County News, described the visit as Shuler's "international outreach."
According to this reporter, "During the reign of the Tamil Tigers, tens of thousands of Sri Lankan citizens had become displaced, travelling to parts of Canada, America, and Europe, in attempt to escape the harsh regime."
"Since Congressman Shuler's initial visit, the Sri Lankan government has successfully resettled citizens and began rebuilding their infrastructure in order to rebuild its economy," she further reported.
Vigilance is said to be the backbone of democracy and literacy as well as media are said to be the prerequisites for vigilance.
But it often happens that vigilance is much better in 'illiterate democracies' where people do care for what their politicians and media are doing, while in the so-called literate democracies selfish disregard allows international outreach of political crimes and blatant lies of media.
(For updates you can share with your friends, follow TNN on Facebook, Twitter and Google+)