Supporting Mahinda or Fonseka 'wrong'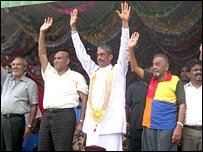 A former political ally of Sri Lanka president has admitted it was wrong to support either Mahinda Rajapaksa or former military leader Sarath Fonseka in consecutive presidential elections.
The Janatha Vimukthi Peramuna (JVP) that made this admission for the first time on Sunday added that the national issue was overlooked by the party due to its strong pro-war stand against the Tamil Tigers.
The JVP that campaigned for Rajapaksa presidency in 2005 presidential elections supported his main rival, Gen Fonseka, in 2010.
Both candidates were claiming the credit for defeating the LTTE by war in May 2009.
Anura Kumara Dissanayake, MP, told the journalists in Colombo that the party has taken a new policy decision not to enter into electoral pact with any political party in the future.
"We need a different social system against this failed capitalist system," he said.
Mr Dissanayake is currently the parliamentary group leader of Fonseka-led Democratic National Alliance (DNA).
The JVP's "probationary" agreement with former President Chandrika Kumaratunga to save her government in 2001 was also a mistake, according to the JVP parliamentarian.
The JVP quit the ruling coalition led by President Kumaratunga in 2005 in protest at government plans for a tsunami aid deal with the Tamil Tiger rebels.
Stopping short of apologising for mistakes, the MP added that the "balance" towards the national issue in Sri Lanka has been lost among the public as a result of the party's strong backing for Rajapaksa administration's war against the LTTE.
The party now understands that it was a mistake to believe, said Mr Dissanayake, that the country could be built through "small reforms," instead of a proper change towards socialism.
JVP leader Somawansa Amerasinghe earlier admitted that there is an internal conflict in the party as reported by the media.
The conflict arose following three senior members Varuna Deepthi Rajapaksa, Pubudu Jagoda and Dimuthu Atigala leaving the central committee without informed the leadership about their departure, Mr Amerasinghe told BBC Sinhala service.
Dissidents deny they have left the party claiming that the leadership plan to oust them when calling for reform.
(For updates you can share with your friends, follow TNN on Facebook, Twitter and Google+)