Thamizhar Changkamam draws sold-out crowd, celebrates Tamil culture
The Ilankai Tamil Sangam, USA hosted a Thamizhar Changkamam (Confluence of Tamils) during its 34th Annual General Meeting in New Jersey and drew a sold-out crowd of Tamils. Visiting Tamil National Alliance (TNA) MPs, Mr. Mavai Senathirajah and Mr. Suresh Premachandran addressed the event and noted the problems facing the Tamils in resettling in their original homes, resuming normal life and having their voices heard since the end of the war. Naam Tamilar Seeman, who was scheduled to attend the event from Tamil Nadu, was not allowed enter the country by the US border agency. In the meantime, Congressman of New Jersey, Rush Holt, who is well informed of the plight of Eelam Tamils, made an impromptu visit to the event. He was honored with pon-aadai (a Tamil custom) for his service to the Tamil community.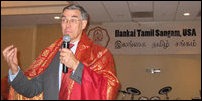 The Congressman pointed out his aspiration and commitment to see Tamils living with peace, security and equal rights in the land of their birth. He also had the opportunity to discuss ground level realities with the visiting MPs.
The US Tamil Political Action Council held its AGM at the event. Several Tamil organizations from the US, Canada and the UK participated during the day-long event, with people coming from as far away as India to attend.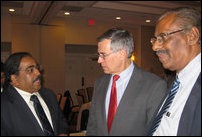 One panel addressed issues of coordination between all these diverse organizations working on different agendas, but all having the well-being and dignity of the people as their focus.
A second standing room-only panel discussed difficulties in providing humanitarian aid to those most affected and the need to restart their livelihood. Issues surrounding pushing for accountability for crimes committed over the course of the war and following its end was the subject of a third lively discussion. Among many attendees, a prominent attorney from Tamil Nadu, Mr. Chandrasekaran outlined his projects, commitments and challenges in redressing the grievances of Eezham Tamils.
Music, dance, fine food and good fellowship were naturally enjoyed by those attending, all dressed in their finest saris, suits and vertis.
A Paratha Naaddiyam dance was performed by Yalini, a third year student majoring in Political Science. The Shakthi Group performed light music, notably Poet Kannadaasan's songs of the '60s and '70s that Eezham Tamils are known to enjoy.
(For updates you can share with your friends, follow TNN on Facebook, Twitter and Google+)