Mahinda sends Milinda to Norway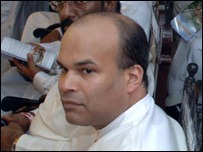 Milinda Moragoda is to represent Sri Lanka in Oslo on the panel of an international seminar on the failed Norwegian brokered peace process in Sri Lanka.
The Seminar, organised by The Norwegian Agency for Development Cooperation (NORAD) will begin on Friday 11th November 2011. The release of a report that evaluates the Norwegian peace efforts in Sri Lanka during the civil war is believed to be the highlight of the event.
The report is prepared by the Christian Michelsen Institute, who has conducted the evaluation of four separate peace efforts by Norway from 1997 to 2009, together with the School of Oriental and African Studies, University of London.
Details of Nowegian donations
The independent report is expected to shed light on key issues, including the LTTE walking away from the negotiating table during Ranil Wickremesinghe's tenure as the Prime Minister and events that led to a fully fledged armed conflict that ended in the defeat of the LTTE military in May 2009.
It will also reveal details of money spent during these years, by Norway on the Sri Lankan government, Tamil Rehabilitation Organisation (TRO), the Tamil Tiger Peace Secretariat, non governmental organisations and others.
Mr. Moragoda, a former member of the United National Party who later joined President Mahinda Rajapaksa's United Peoples Front Alliance, was one of the first government representatives to have official contact with LTTE chief negotiator Anton Balasingham in London.
International panel
Norway's role in Sri Lanka's peace negotiations have come under heavy criticism from Buddhists monks and Sinhala nationalists who have accused Norway of supporting the Tamil Tigers and their fight for a separate Tamil state.
(For updates you can share with your friends, follow TNN on Facebook, Twitter and Google+)