Thalaimannar IDPs 'made refugees again'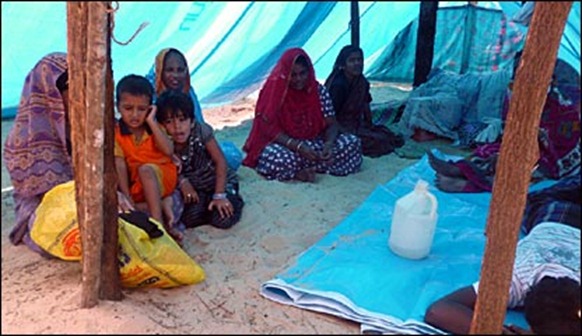 Nearly 600 families recently re-settled in their ancestral lands in Thalaimannar say they were made homeless again due to "land grab" by the military.
The families who were evicted from Thalaimannar by the Tamil Tigers in 1990 were recently requested by the government to resettle in their ancestral lands.
But once resettled, they say, they were once again evicted by the police and military.
The families are currently camping in a land belonged to local mosque.
No facilities
"We thought we would be offered some kind of relief once resettled here but now the navy and army say we should not live in these lands," one woman said.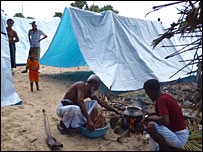 [The refugees are even finding it difficult to find drinking water]
The villagers have been living in various parts of Sri Lanka after the LTTE eviction until the government made a special request for them to come and re-settle in their original lands.
But the officials have told them, they say, that the lands in which they previously lived now belonged to the government.
"Police evicted us saying that these are state lands," said another man.
Joseph Neville Francis, 65, says that nearly 600 families are now made refugees in their own village as their ancestral land has been taken over by the military.
The refugees are even finding it difficult to find drinking water, journalist Dinasena Rathugamage who visited the camps reports.
"No facilities at all here. If someone falls ill we don't know what to do," another refugee said.
"These are our ancestral lands, not government lands. The president must give us our lands back," said another.
(For updates you can share with your friends, follow TNN on Facebook, Twitter and Google+)