Websites blocked 'without a court order'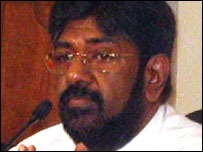 Sri Lankan government has confirmed that it has taken down several websites without a court order.
Speaking to journalists in Colombo on Tuesday, Media Minister Keheliya Rambukwella said that government took the decision to ban websites without legal recourse.
According to the minister, the government is unable to find who is behind the several websites that operate with pornographic, false and malicious contents.
"We have a right to intervene on behalf of the country, people and national security" Minister added.
Website registration
The move follows the Sri Lankan government's announcement on the 5th November demanding to register all websites reporting on Sri Lanka with the country's media ministry.
Google said it has fully acceded to the Sri Lankan government's requests for removal of content from Google services.
According to Google this is the first time that it received 'one or more content removal requests' from Sri Lanka.
However, Google declined to give details of the content removed.
"We don't go into the details of the content we are requested to take down by the executive or judiciary" Public Relations Manager of the Google's United Kingdom office, Steven Rosenthal told BBC World Service
Serious threat to online freedom
International and Sri Lankan media watchdogs accused the government of curtailing the freedom of expression and suppression of free media in Sri Lanka by blocking websites.
Deploring the government measures Reporters without Borders said "several news sites had already been blocked by the government, and now this requirement to register with the information ministry poses an additional serious threat to the already limited online freedom of expression".
"Blocking online media is another step in the Sri Lankan government's plan to silence any media critical of its policies or personnel," said Committee to Protect Journalists.
Tamilnet has been blocked almost continuously since 2007, followed by Lankanewsweb and LankaeNews.
(For updates you can share with your friends, follow TNN on Facebook, Twitter and Google+)