Sri Lanka war probe calls for new inquiry: report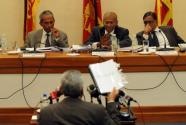 A Sri Lankan government probe into the civil war against Tamil rebels has called for further investigations of alleged war crimes committed in the final stages of fighting in 2009, according to a report.
The Lessons Learnt and Reconciliation Commission (LLRC), which has been widely criticised as biased by international rights groups, concluded that some evidence warranted a new inquiry, the local Sunday Times said.
The commission was due to hand over its report to President Mahinda Rajapakse later Sunday, but it is not clear when it will be published.
The 400-page dossier "will ask the government to investigate incidents that may have occurred during the final stages of the war", the Sunday Times said, adding that "information points to prima facie evidence but no names named".
Both government forces and the Tamil Tiger separatists have been accused of war crimes in the months before the rebels were finally wiped out in May 2009, ending decades of warfare on the island.
The LLRC, appointed in May last year, was not mandated to probe war crimes but asked to find out why a Norwegian-brokered 2002 truce failed and to recommend ways to prevent the island slipping back to ethnic conflict.
The Sunday Times said that the LLRC had also described a documentary by Britain's Channel 4 television alleging to show government troops executing suspected Tamil rebels as a "total fabrication".
(For updates you can share with your friends, follow TNN on Facebook, Twitter and Google+)