Sri Lanka tipped to raise defence spending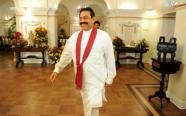 Sri Lanka's president is expected to raise defence spending when he unveils his 2012 budget Monday, officials said, even though the country's bloody civil war came to an end two-and-a-half years ago.
As the island nation's export-dependent economy is hit by a downturn in key US and European markets, Mahinda Rajapakse, who is also finance minister, is expected to outline plans to cut the country's deficit and raise new revenues.
Finance ministry officials said the budget will forecast a growth rate of 8.0 percent for 2012, down from an earlier projection of 9.0 percent, and estimated 8.5 percent growth in 2011, unchanged from previous estimates.
The slower growth outlook was tied to economic woes in Europe and the United States, where leaders are struggling to overcome spiralling debt problems that have resulted in lower spending on exports, officials said.
As a result, Sri Lanka's budget deficit is projected to hit 6.2 percent of gross domestic product next year, compared with a previous forecast of 5.2 percent, officials said.
The new estimate is still lower than the 6.8 percent tipped for 2011.
Official figures tabled in parliament showed 230 billion rupees ($2.1 billion) would be spent on defence in 2012, up from 215 billion rupees this year.
Security authorities say they need to keep defence spending high to repay loans on military hardware purchased to fight the Tamil Tigers during nearly four decades of ethnic conflict that ended in May 2009.
Sri Lanka's military is also recruiting, despite claiming victory over the rebel group and declaring an end to a civil war which claimed the lives of up to 100,000 people.
Rajapakse was also expected to raise new taxes, including higher cigarette and alcohol duties, although few details were available.
(For updates you can share with your friends, follow TNN on Facebook, Twitter and Google+)