Sri Lanka devalues currency, ups defence budget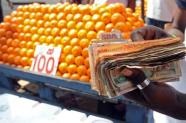 Sri Lanka announced Monday a surprise three percent depreciation of the rupee against a basket of currencies in a move to boost exports, as it released a 2012 budget that boosts defence spending.
Sri Lanka's central bank has said the rupee has been steadily appreciating against other currencies since the end of the island's decades-long Tamil separatist war in May 2009.
Economic woes in Europe and the United States have also led to a downturn in demand for Sri Lanka's exports, government officials said.
"I have asked the Central Bank (of Sri Lanka) to depreciate the rupee by three percent with immediate effect," President Mahinda Rajapakse told parliament as he unveiled the budget.
"This is to remain competitive with our neighbours," he said.
Official sources said it was the first time in more than a decade that the government has carried out a "single stroke" depreciation of the rupee.
Sri Lanka's central bank has maintained a "managed float" with the local unit tied to a basket of foreign currencies.
The central bank said the rupee had appreciated 7.4 percent last year against the basket of currencies including the dollar, the pound and the euro.
"Our exporters find it difficult to remain competitive," Rajapakse said.
Neighbouring India's rupee has fallen by nearly 15 percent this year against the dollar as investor concerns about the eurozone debt crisis and a slowing domestic economy have pumped demand for the US currency.
The president added he was also keen to reduce imports of goods that could be easily manufactured on the island, saying he was offering tax breaks to small industries to make medical supplies and food supplements to save millions of dollars spent on imports.
The budget included an increase in defence spending, despite the end of the ethnic conflict, with some 230 billion rupees ($2.1 billion) to be spent on defence in 2012, up from 215 billion rupees this year.
Security authorities say they need to keep defence spending high to repay loans on military hardware purchased to fight the Tamil Tigers during nearly four decades of ethnic conflict which claimed up to 100,000 lives.
Rajapakse also announced a new move to re-take some 37,000 hectares (91,428 acres) of plantations leased to private companies, saying that the land had not been properly utilised.
The takeover announcement came hot on the heels of criticism over another move earlier this month to nationalise 37 private companies which had either leased or bought state land in the past 20 years.
As part of new revenue-raising measures, Rajapakse hiked taxes on luxury vehicles while cigarette and alcohol prices were increased just before the budget. He also announced a 10 percent salary increase for public servants.
(For updates you can share with your friends, follow TNN on Facebook, Twitter and Google+)