Judge Kotelly to decide Rajapakse's legal fate in US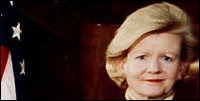 Lead counsel for the three Tamil plaintiffs, who have charged Sri Lanka's President Mahinda Rajapakse of war-crimes in the District Court of District of Columbia, filed a memorandum Tuesday requesting Judge Kollar-Kotelly to validate the service of process based on the publication of the summons and complaint in TamilNet as ordered by the Judge in her October 13th ruling. The plaintiffs also have submitted to the Court affidavits and supporting documentation that attempts at publication in Colombo media were not successful due to Rajapakse's "brutally effective" efforts to silence critical media through "politically motivated deaths, attacks, and disappearances," and have requested for a waiver from local publication as "compliance has been frustrated by Defendant's alarming attack on freedom of the press."
pdf: Memorandum to validate service of process (127Kb)
pdf: Exhibits attached to the Memorandum (13Mb)
The plaintiffs have also requested authority from the Judge to effectuate service on Rajapakse via his individual U.S. Post Office Address, Facebook, and Twitter Accounts as alternate methods if the Judge finds further attempts are necessary to effect legal completion of service of process, court documents filed Tuesday say.
Bruce Fein, lead counsel for the plaintiffs commented after filing the memorandum with the Court, "Sri Lanka President Mahinda Rajapakse's sneering contempt for the judicial process in the United States is not likely to militate in his favor. If the court enters an order validating service of the summons and complaint because of the Defendant's tacit threat to assassinate any cooperating newspaper journalist, Mr. Rajapakse would have 20 days to respond under the Federal Rules of Civil Procedure.
"If, as his spokesman indicated, Defendant Rajapaksa chooses to ignore the summons and complaint, we will file for a default judgment and pursue his assets everywhere in the world until proper damages are collected for the bereaved Plaintiffs," Fein said.
Court papers referred to supporting e-mail and other material from Bob Dietz, co-ordinator of the Asia Program at the Committee to Protect Journlists, quoting: "[a]uthorities have turned the notion of law enforcement on its head, obstructing justice in numerous attacks against journalists. Prime examples are the unsolved 2010 disappearance of cartoonist Prageeth Eknelygoda, and the unsolved 2009 murder of prominent editor Lasantha Wickramatunga. But those cases are hardly unusual," the submitted CPJ statement said.
"[Sri Lanka's] President Mahinda Rajapaksa has presided over an appalling era in which every journalist murder—nine since he rose to high office—has gone unpunished. Anti-press violence continued in 2011," CPJ's publication on Sri Lanka added.
Spokesperson for Tamils Against Genocide (TAG), a US-based activist group that sponsored the law suit, commented: "Judge Kotelly, who served as the Presiding Judge on United States Foreign Intelligence Surveillance Act (FISA), has enviable expertise in legal issues on extra-territorial defendants and immunity defences. Her earlier decision to allow the case to proceed and her directive on publication using the internet as a valid medium for service, reflect her independent, precedent setting legal mind. Tamils will earn a major legal victory if the judge validates the service, or accepts cyber social networks as acceptable service medium of last resort," TAG spokesperson said.
pdf: Text of complaint for case 1:11-cv-00235
pdf: U.S. Court: Filed motion for Alternate Service
The Complaint filed in January 2011 alleges multiple violations of the Torture Victims Protection Act (TVPA) based on Sri Lanka's President Rajapaksa's command responsibility for the extrajudicial killings of Ragihar Manoharan, the son of Plaintiff Dr. Kasippillai Manoharan, of Premas Anandarajah, a humanitarian aid worker for Action Against Hunger, and husband of Plaintiff Kalaiselvi Lavan, and four members of the Thevarajah family, all relatives of Plaintiff Jeyakumar Aiyathurai.
The plaintiffs seek $30m as damages through six counts of violations of the TVPA.
(For updates you can share with your friends, follow TNN on Facebook, Twitter and Google+)