Fonseka murder conspiracy alleged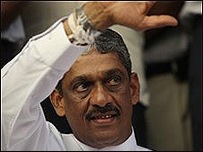 An opposition MP in Sri Lanka has alleged a murder conspiracy against the former army chief Sarath Fonseka.
Arjuna Ranatunga, MP, who represents Mr Fonseka's political party says that the former military chief is prevented from meeting doctors for medical treatment.
"Not only he is being sent to prison but they are trying to kill him in the prison," he told the journalists at Colombo court complex.
Mr Fonseka attended the court as his lawyers filed an appeal against his conviction of adding credence to allegations the defence secretary ordered Tamil Tigers to be killed as they tried to surrender, popularly known as 'white flag' case.
Criticising the verdict that sent him to jail for another three years, the former general said "the corrupt politician" who is "afraid of challenging" him in politics would ber the only beneficiary of the verdict.
Government denies
He also hailed Judge Warawewa, who found Mr Fonseka not guilty of the charges, saying "the nation will salute him."
Mr Ranatunga, the man who led the World Cup winning cricket team in 1996, added that the prison authorities have received "orders from above" not to bring former general to see doctors.
"The man who won the war and brought freedom to Sri Lanka is not even allowed to meet a doctor," he added.
Rejecting the accusation, the government said it has sought legal advice from attorney general whether a court order issued while Mr Fonseka was a suspect is still valid after he was found guilty.
"If we are told that he is not well we will take him to prison hospital and to the government hospital if further treatment is need," Prison Affairs Minister Chandrasiri Gajadheera told BBC Sandeshaya.
"The government is also duty bound to provide him with adequate security," the minister added.
(For updates you can share with your friends, follow TNN on Facebook, Twitter and Google+)