Moothoor villagers demand their security ensured after teacher murder
Students, teachers, education officials and members of public in large numbers went in a procession Friday morning from Cheanaiyoor Central College to Champoor Police Station in the Moothoor East in Trincomalee district demanding that the culprits behind the brutal killing of a young unmarried Tamil teacher Miss Kurukulasingham Srivathani that took place on Thursday should be arrested. Srivathani left home Wednesday as usual in her scooter to Paaddaa'li-puram Government Tamil Mixed School in the Moothoor education zone, about seven km away from her place Cheanaiyoor-Kaddaipa'richchaan, which is located between two Sri Lanka Army camps, one at Paaddaa'li-puram and the other at Chanthosa-puram. Moothoor East, previously a part of the de facto Tamil Eelam administration by the LTTE is now fully occupied by the SL military.
A delegation of the civil groups at the conclusion of the procession met the Officer-in-Charge of the Champoor Police Station and put forward a demand to ensure the security of teachers and students and public in the Moothoor East.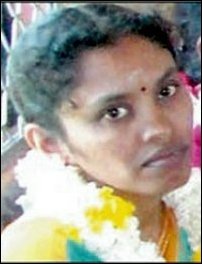 Miss Srivathani with garland at World Teachers Day event in her school two months ago
Later in the afternoon a condolence meeting was held in the Kaddaipa'richchaan residence of the murdered teacher Miss Kurukulasingham Srivathani who was born on 20 February 1978.
Her body was kept at the residence for the public to pay their last respects.
Moothoor Zonal Director of Education Mr.A.Vijeyanandamoorthy, former Trincomalee district parliamentarian Mr.K.Thurairatnasingham and several others spoke at the condolence meeting.
They said the death of Miss Srivathani was an irreparable loss to the educational development of Moothoor at a time student community needed dedicated teachers. Mr.S.Suntharamoorthy, Principal of the Paaddaa'lipuram Government Tamil Mixed School presided.
Later in the afternoon around three p.m. the remains of Srivathani were buried in the Hindu Cemetery at Kaddaipa'richchaan amid cries from students, teachers and people of Moothoor East.
Miss Srivathani passed out as a trained teacher from the Batticaloa Teacher Training College in 2006 and got her first appointment at Paaddaa'lipuram School.
She was honored at her school at an event held two months back on the World Teachers Day for her dedicated service.
She met her tragic death while she was on her way to school in her scooter on Thursday. Later her body was recovered from a shrub, three miles off Cheanaiyoor with cut injuries on her head.
Except her ear-ring all jewelry she was wearing and her handbag with the salary for the month of November had been reported missing. Her scooter was found lying near her body.
(For updates you can share with your friends, follow TNN on Facebook, Twitter and Google+)