Coast Guard's 'no fishing zone' suggestion outrageous: Jayalalithaa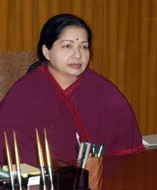 Chief Minister Jayalalithaa on Saturday termed "illogical, preposterous and absolutely outrageous," the Indian Coast Guard's suggestion that Tamil Nadu proclaim a 'no fishing zone' within five nautical miles of the Indo-Sri Lankan International Maritime Boundary Line (IMBL) and impose strict punitive measures on defaulters.
Expressing "total disagreement", Ms. Jayalalithaa, in a letter, urged Prime Minister Manmohan Singh to instruct the authorities concerned to rectify the stand before the court at the earliest before irredeemable damage is done.
The Opposition DMK also said that the suggestion would severely affect the livelihood of Tamil fishermen. DMK Parliamentary Party leader T.R. Baalu said that his party MPs would meet the Prime Minister on November 28 to take up the issue with him.
"We will also raise the issue in Parliament." The Coast Guard made the suggestion before the Madurai Bench of the Madras High Court in response to a public interest litigation seeking direction to the force to give protection to Indian (Tamil Nadu) fishermen in the Palk Straits. It contended that Tamil Nadu fishermen crossed the IMBL for fishing in Sri Lankan waters and used nets banned in that country.
Ms. Jayalalithaa recalled the memorandum she handed over to the Prime Minister on June 14. "I understand that the issue of allowing fishing in each others' waters on a mutually agreed basis is being discussed by the Joint Working Group involving Indian and Sri Lankan authorities. That being the case, it is really surprising that the Indian Coast Guard has taken such a blatantly condemnable stand."
If the stand were implemented, it would mean that the Tamil Nadu fishermen have to stop fishing and starve, "which I am sure, is not the intention of the Government of India".
(For updates you can share with your friends, follow TNN on Facebook, Twitter and Google+)