'Lies Agreed Upon' For Budgets Read Out Loud
Debate on the the 2nd complete UPFA budget since the conclusion of the war in 2009 May, is now on both within the parliament and without.
Heavy weights both critical and positive about this budget, have access to media. The debate is about urban middle class life and the Western Province economy. Not much is said about the allocation of 230 billion rupees for the defence ministry in this 2012 budget, for that does not seem to weigh on urban middle class life, as yet. North-East is too far off from daily Colombo life to talk of defence budgets. All discussion therefore remain strictly at macro level, in academic form on markets and middle class consumption.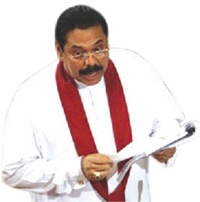 The arguments are very much about taxing, devaluation of the rupee, growth indexes and inflation. Business chambers are busy discussing expropriations entrenched within the budget and incentives for businesses.
How will the gaping disparity in wealth, in economic life, between the Western Province and the rest of Sri Lanka be addressed in this budget ? Where are "people" within these budget allocations ? Why isn't criticism of the budget not "people centric" ?
A budget, should be on how this whole country, that is North-East included as well, would be developed within a decent market economy. One that brings not only hitherto marginalised geographical areas, but left out social segments as well, into productive life. That has a cardinal rule to adhere to. This 2012 budget has to be kept alongside the 2011 budget in discussing how Sri Lanka could economically fare, henceforth. The Opposition should ask the Rajapaksa government, how this 2012 budget was planned in relation to what was implemented and achieved from the previous 2011 budget. Unfortunately the most vital question, where  the "assessment on budgetary performance" on the 2011 budget is, has never been asked by Opposition critics, discussing this budget for 2012.
The first observation on that is, revenue expected had ended up as a bad collection failure. The 2011 budget expected an increased total revenue of Rs. 963.5 billion. The Inland Revenue Department report for 2010 shows the department is wholly inefficient in collecting revenue, with a staggering default of Rs. 214.4 billion in gross tax. How the government managed that massive revenue loss, is never asked and never told. For that reason alone, it is now necessary for anyone discussing this budget to know how realistic the projected revenue figure is, for this 2011 and next year 2012, as mentioned in the UPFA budgets. It is also necessary to know what actual percentage is expected to be collected from due revenue, in these years.
Presenting the previous 2011 budget, President promised a 10% increase in exports with a 05 point tax concession offer. He promised to improve exports of value added products through a CESS imposition on raw and semi processed products. There was a tax reduction on import of machinery and equipment, a 05% reduction on income tax for domestic value addition, 03% income tax reduction for export companies and then 07% reduction on income tax from profits.
The President also offered a subsidy of Rs. 50,000 per hectare for the tea industry as incentive for value addition in tea production. How has the export sector responded to all these concessions at the cost of people's welfare in the current year? Has the export sector grown by 10% as envisaged for the people to benefit ? What is the total subsidy paid for tea so far and where have we gained in value addition ?
What is the outcome of the massive concessions given to the tourist industry ? Where is the refurbishment of all rest houses and government circuit bungalows promised by President, reading out his budget, last year ? Who and how many used the duty waver of 25% on import of passenger transport vehicles for the tourist industry ?
For those who go through untold misery as migrant labour especially in Middle East, where is the promised "Overseas Employment Fund" to live a retired life ? What was instead attempted in May this year was to exploit the private sector employees already enjoying EPF/ETF, through a new pension fund.
Education is one other area all governments have been playing around with, throwing out popular slogans. Rajapaksas have not been any different. With most promises in the previous budget left to be achieved in 2016, President Rajapaksa said, "I propose to establish a knowledge city in each province, linked to university townships." with a target of USD 02 billion IT export activity by 2016. Where are those "knowledge cities" ?
What of the Government commitment through the  Ministry of Youth Affairs and Skills
Development to train 300,000 youths in a wide range of new skills ? Was Rs. 5 billion  provided for such skills development from the 3 year commitment of Rs. 16 billion ?
For the apparel industry, which the President believed is an industry that adheres to ethical and environmental standards, the offer last year was to invite big buyers, have processing and re-export as well as transshipment of apparel clothing and exempt textile, apparel and leather product related high value added activities from import duties and VAT. All what we know is, the apparel industry is unable to find recruits for their job vacancies and the numbers had grown from 15,000 vacancies at the end of 2010 to over 30,000 vacancies by now, regardless of a Rs.95 million promotional campaign by JAAF.
All these should make the prelude to the discussion on this 2012 budget. But that is not how the Opposition, nor other critics approach this budget discussion. Sadly, they don't relate the performance of yesteryear, to the budgetary forecasts of next year.
From the many that could be quoted from the previous budget, this 2012 budget presented, has no major relation or relevance to proposals made last year. The promises given to improve Free Education that is going through extreme degeneration, is one big bluff. Last year (2010) in November, President Rajapaksa promised in his budget speech, "I propose to develop 1,000 well equipped secondary schools throughout the island over a period of 5 years. Each secondary school will be linked to a number of primary schools. Required funding of Rs.15 billion has been mobilized from the World Bank and the Asian Development Bank."[http://www.treasury.gov.lk Budget speech 2011-under No.35]
Where are these "well equipped secondary schools" ? One could have a hearty laugh on that. They are again in the budget proposals for year 2012. Presenting this budget the President said, "The Government proposes to give priority to develop 1,000 high quality secondary schools that could be improved to meet universal standards and 5,000 well performing primary schools that could be connected to such secondary schools." For sure, nothing had happened to that promise made last year. "Accordingly 300 secondary schools and 700 primary schools will be modernized in 2012." says this budget. One would have to wait till November next year to see, if its President Rajapaksa who would present the budget for 2013 making the same promise.
Such promises and the few billions allocated from public funds, on Free Education in every budget, every year, is a massive fraud on the whole nation. Free Education serves no purpose now, in any sense. It does not help in providing employable labour. It does not help access futuristic, critical knowledge at higher levels. Nor does it turn out public spirited citizens with a civic sense.
Those who agitate for Free Education along with this government and the President who promise to safeguard Free Education, would not tell that every Cent spent on Free Education, can only help turn out around 20,000 graduates annually, dependent on State employment, leaving almost 400,000 youth in a void, after G.C.E. O/L and A/L exams. This is Free Education and this is not what has to be funded through national budgets.
We need the government to propose constructive changes in allocating funds that could make the education system affordable to the society. A budget that keeps spending on the same fake proposals, is not one that should be approved, regardless of other macro economic arguments. Education is one major component in future economics.
This budget that is also a reflection of this regime's politics, have no relevance to the political reality of post war Sri Lanka and its demands. Though the President talks of "rural centric" proposals, this whole budget as in the past is wholly "Rajapaksa centric" and is to be driven from Colombo. Therefore this budget would give no worthy meaning to "devolution" even to the extent defined in the 13th Amendment. Thus it leaves no meaning in having any talks with the Tamil National Alliance (TNA), on their demands for power devolution.
The "t"s and the "i"s have been crossed and dotted perfectly in this budget to centralise everything from North to South and East to West. President Rajapaksa while providing a further increased allocation for his defence ministry, that's afflicted with serious accusations of militarisation and violations of laws and regulations by the military in the North and the East as tabled in parliament in October by MP Sumanthiran, has effectively reduced the role of Provincial Councils in rural development. This budget allocates only Rs. 130 billion for already devolved health, education, social services and for economic activities under PCs. President very proudly said he is confident, with other contributions from stamps, taxes etc. the PCs would have Rs. 162 billion for 2012. That would be 09 PCs spending 162 billion during the whole year, for the most important ministries, health and education apart from social services.
Another intrusion from Colombo is the development of 100 "townships" in 100 LG authorities with funds from the ADB, estimated at Rs. 700 million. Whether these "townships" would end up as those "knowledge cities" promised in the previous budget, is another matter. Failed and forgotten they may be by the time the 2013 budget is presented. But still, for this Rajapaksa regime, everything has to be done from Colombo and kept under their thumb. There is no devolved development allowed.
That's what this budget is and that's how it is being discussed. We would therefore as usual end up discussing "lies agreed upon" as "development and prosperity". That was how every budget, before this, got through. An obedient people, agreeing to be tricked with every budget.
(For updates you can share with your friends, follow TNN on Facebook, Twitter and Google+)