LLRC report: World awaits Govt. response
It is perhaps the largest wooden table in Sri Lanka though it is not for dining or drinking. Unveiled this week, it would easily be one on which many a decision that enters chapters of Sri Lanka's history is made.
President Mahinda Rajapaksa and his 60 cabinet ministers sat around this table for the first tine at the formal weekly cabinet meeting last Wednesday evening. However, last Monday morning, they did gather around the same table for a short time where Rajapaksa outlined the budget proposals to the ministers before presenting them to Parliament. The teak table, located in a new cabinet wing built within the precincts of 'Temple Trees,' seemed to suggest that the larger team of ministers have come to stay in Sri Lanka. The numbers may remain though the names may change from time to time.
Equipped with state of the art acoustic systems, the new cabinet room also has television screens where ministers speaking from a far corner of the table could be seen and heard closely by those at the other end. Earlier, cabinet meetings, which once took place at 'Temple Trees,' had to be shifted to the Presidential Secretariat (the former Parliament building), after the number of ministers swelled to 60, a record high for a country with a population of 21 million. Neighbouring India, with a population of 1.21 billion and described as the world's largest democracy has a Cabinet of just 33 ministers, including the Prime Minister.
When Cabinet meetings took place at the Presidential Secretariat, ministers had to sit in three rows facing a table and chair where President Rajapaksa was seated. Most ministers felt the arrangement was unwieldy with some complaining they could not hear what others said. Often Cabinet papers were approved with some ministers not even hearing what was happening. At the new Cabinet room, one of the first lengthy speeches came from Mervyn Silva, Gampaha District UPFA parliamentarian and Minister of Public Relations and Public Affairs.
He thanked President Rajapaksa for leading the country to "prosperity." He drew some laughter when he made a plea that he be given a "good ministry" when changes do occur. He even hinted that the position of Deputy Minister of Fisheries would not be a bad idea. Silva was not merely pitching his case in his own inimitable style but was in fact cashing in on reports that Rajapaksa planned a cabinet re-shuffle by January this year. Sources within the government say such a re-shuffle could be substantial with a few "non performing" ministers being switched around to "less important" ministries. They also say some new faces too would emerge.
Takeover Law
One of the significant subjects to be discussed last Wednesday was a abinet paper presented by President Mahinda Rajapaksa as follow-up action on the Revival of Underperforming Enterprises or Underutilised Assets Act just passed by Parliament. Rajapaksa, who earlier moved the draft Bill, now forwarded the Cabinet paper containing the names of persons who should be appointed as Competent Authorities for the 37 ventures taken over by the government. Whilst most of them will come under the respective Government Agents in the districts where the enterprises are located, the cabinet approved the appointment of two attorneys at law too. One is Kalinga Indatissa who will be Competent Authority for Lanka Tractors for its properties in Narahenpita and Pettah. The other is President's Counsel Senaka Walgampaya, for Hotel Developers Ltd., the owning company of Colombo Hilton.
The Cabinet also decided to appoint a five-member Sub Committee to monitor the workings of the 37 enterprises that have been taken over. The move reiterated that the government has no plans to hand back the acquired ventures to their owners in the wake of protests. This sub-committee will be expected to keep the cabinet informed periodically on the performance of the enterprises. It is headed by Anura Priyadarshana Yapa, Minister of Environment. They are expected to meet Competent Authorities of the 37 enterprises to obtain first-hand accounts of how the ventures are performing.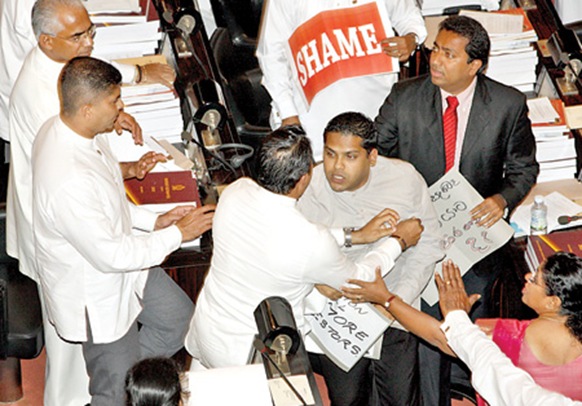 Shame all round: The scuffle in parliament on Monday
The ministers learnt of the budget 2012 for the first time at the newly built cabinet room and later in Parliament last Monday, when it was delivered by President Rajapaksa, who is also Minister of Finance.
It was a different story altogether for the main opposition United National Party (UNP). Its MPs had gathered at noon for the parliamentary group meeting at the office of the Leader of the Opposition in the Parliament complex. The subject was the budget to be presented within two hours and what steps the party should take were discussed.
The meeting chaired by leader Ranil Wickremesinghe, was to highlight the continuing differences between his faction and the ones loyal to Co-deputy Leader Sajith Premadasa, who heads the group of so-called revisionists. Although not altogether in that camp, Deputy Leader Karu Jayasuriya was no exception. They were surprised to learn that Wickremesinghe loyalists, especially former Speaker Joseph Michael Perera, Chief Opposition Whip John Amaratunga and Dr. Jayalath Jayawardene had decided to spring a surprise when Rajapaksa was on his way to read the budget. It was by holding out posters with slogans in Sinhala, Tamil and English with the words "Shame." One or two posters also protested against the take-over of the Sevanagala Sugar Industries Limited whose owner Daya Gamage is a financier of the UNP. The question of whether or not a walkout should take place was discussed. It was pointed out that the UNP had come in for public criticism for keeping away from Parliament when the 18th Amendment to the Constitution was passed. Hence, it was decided that a protest should be staged and a walkout should follow only thereafter.
When Rajapaksa was reading out his budget proposals, Wickremesinghe gave the nod. Soon, some UNP parliamentarians stood up and displayed the posters across their chests. Jayasuriya and Premadasa were conspicuous because they held none. A group of government parliamentarians led by Lohan Ratwatte (UPFA – Kandy District) who sat behind the opposition benches in Parliament thrust forward to assault their UNP counterparts. Details of the melee appear elsewhere in this newspaper. Even ahead of the protest, Rajapaksa seemed aware it was going to be staged. His first remarks on seeing media cameramen at the entrance to Parliament was to tell them that they would have better pictures of the posters to be displayed in the Well of the House. Who leaked the news was the talking point among some UNP parliamentarians. Only moments earlier, a policeman who checked Dr. Jayalath Jayawardena (UNP – Gampaha District) found two posters which he confiscated. But, it was too soon a detection to reach Rajapaksa's ears.
The acts of hooliganism in the hallowed precincts of the House of parliament came in the presence of the diplomatic corps and special invitees. It gave them an idea of the lawlessness by some of the country's lawmakers. Dr. Jayawardena was seen holding a red poster in English which said "Shame." In turn, it seemed a damn shame for the doctor turned parliamentarian when he declared a day later that he would complain over the incidents in Parliament to the Inter Parliamentary Union (IPU) and the Commonwealth Parliamentary Union (CPU). He is so quick to issue media statements complaining to world bodies whilst, like some of his colleagues, remaining grossly silent in Sri Lanka. They seem publicity stunts — for no organisation outside the shores of Sri Lanka, however powerful they are, could dictate terms to the Parliament of an independent, sovereign country.
One wag said that Jayawardene is working on his next trip abroad to go and complain on what happened.
Housing Minister Wimal Weerawansa made a moot point later. He said the otherwise beleaguered Leader of the Opposition was trying to impress the diplomatic corps that he was still capable of mounting opposition to the Rajapaksa regime and that he was not a spent-force.
But equally shameful was the conduct of the UPFA youngsters trying to win brownie points by what they did. Rajapaksa was heard saying "apey kandamaye aya waadi wenna" (those in our team sit down), but that he was not only ignored, that his administration seems to condone and even reward such behaviour was something that struck home.
After the walkout from the Well of the House, UNP parliamentarians also boycotted the customary Finance Minister's tea party. Rajapaksa, who was evidently ruffled earlier, was to shake TNA leader, Rajavarothayam Sampanthan's hand and thank his alliance members for not walking out. In the House he also pointed to MPs of the Democratic National Alliance (DNA) who had chosen to remain in their seats. Yet, trying to regain his composure after the opposition walkout, Rajapaksa was to remark in the House that it was good to see a united opposition at work.
Divided or united?
Though seemingly united, developments on Monday afternoon were to show how much more the UNP was divided. UNP parliamentarians adjourned to No 30, Sir Marcus Fernando Mawatha — the temporary office of the Leader of the Opposition. That building is the official residence of the Mayor of Colombo. The office of the opposition leader, located at Cambridge Terrace is being reconstructed by the government. A new building will replace the old two storied one. President Rajapaksa had obtained Cabinet approval for the project despite some questions then raised by Prime Minister D.M. Jayaratne.
A second meeting of the UNP parliamentary group began. Harsha de Silva (National List – UNP) had hurriedly prepared a short note highlighting the unity that existed within the party when they chose to oppose the budget and then walk out. He said he hoped such unity would continue to prevail. Sujeeva Senasinghe (UNP-Colombo District) was to raise issue over why leader Wickremesinghe had assured in writing to hold the Commonwealth Games in Hambantota in 2018 if the UNP were to come to power. Wickremesinghe was to immediately call for the letter, read it out and later issued copies. His position, in a carefully-crafted letter, was only to hold the event if the UNP was in power, as opposed to the extravaganza that this government was associated with.
However, Wickremesinghe had neither consulted the party's working committee, the main policy making body, nor made a statement until the matter became public after Central Bank Governor Ajith Nivard Cabral's announcement. That was why most senior UNPers continued to criticise the colossal expenditure incurred in the failed attempt to have Hambantota play host for the Commonwealth Games. As revealed last week, more than Rs. 500 million had been spent on the campaign that culminated with the grand tamasha in the Carribean island of St. Kitts. However, no one raised issue over this at the meeting. Thereafter, the group decided to continue the protest campaign countrywide.
The next day (Tuesday) Wickremesinghe named a 14-member committee to make arrangements for a countrywide campaign titled Jathika Virodatha Sangvidana" (National Protest Organisation). It is headed by UNP General Secretary Tissa Attanayake and includes Ravi Karunanayake, Jayalath Jayawardena, John Ameratunga, Lakshman Kiriella, Mangala Samaraweera, Kabir Hashim, Ranjit Maddumabandara, Dayasiri Jayasekera, Harin Fernando, Ruwan Wijewardene, Shanthini Kongahage, Daya Gamage and Vajira Abeywardena.
Wickremesinghe, a veteran at political manoeuvring named himself as an advisor to this committee together with his two deputies, Jayasuriya and Premadasa. In addition, UNP Chairman Gamini Jayawickrema Perera was also named as an advisor.
In real ity, Jayasuriya who declared willingness to a call from Premadasa to 'take over' the UNP leadership from Wickremesinghe and Premadasa who led the group of so-called revisionists from way back last year with little success, have been reined in for a second time within a month. The first came when Wickremesinghe named John Ameratunga to deputise for him when he travelled to London early this month to take part in the annual sessions of the International Democratic Union (IDU).
The duo has also found placements lower down the list of speakers instead of being in the line-up of openers during the budget debate. The fact that they have remained silent is a clear sign that Wickremesinghe is re-asserting himself and is confident of the majority he holds in the Working Committee. He has sent a signal by suspending from the party Buddhika Pathirana (UNP – Matara District) and Shiral Lakthilaka (UNP – Western Province Council member). Naturally, that aggressiveness does not hold out any hope for a 'forgive and forget' scenario and underscores two significant factors.
The first — with his renewed 'strength' after the UNP victory at the Colombo Municipal Council last month, Wickremesinghe is bent on building a party structure backed by his own loyalists and edge out all those he perceives are against his leadership. Though he is aware they are no longer a visible threat, he is conscious that the campaign against him is being carried out by proxies of the so-called revisionists. The second is the cumulative outcome of the first factor. The divisions in the party will continue to exacerbate. A breaking point will become inevitable sooner or later. In such an event, the question is not which faction is strong or weak. It would be a case of who would be popular at the grassroots level of the party. What has come as a taint on Wickremesinghe, rightly or wrongly, is the allegation that he has listed heavily towards the UPFA government. For the so-called reformists, including parliamentarians, this alleged taint comes as their biggest worry. Should they declare political war publicly and get sacked from the party, they are uncertain of their future. Would their parliamentarians be successful in getting legal redress, remains a critical question? This, perhaps is a fearful contributory factor to their muted silence and the proxy war against the leader.
On the other hand, Wickremesinghe's new campaign of "Jathika Virodatha Sangvidana" under the slogan 'Asahanaya and Avanithiya' (Lack of relief and lawlessness) is aimed at reversing that alleged taint.
There are five specific areas the National Protest Campaign will focus on.
They are:
(1) Release former General Sarath Fonseka and all political prisoners from jail.
(2) Withdraw the Revival of Underperforming Enterprises or Underutilised Assets Act which is a law "introduced to destroy Sri Lankan entrepreneurs",
(3) oppose the budget proposals that have not brought any relief to the people,
(4) Failure of the government to bring about a political solution to the National Problem acceptable to all three major communities, and
(5) The assault of MPs in Parliament.
In essence, Wickremesinghe wants to demonstrate that he is now taking on the government.
The first protest meeting will be held on Tuesday (November 29) at the Hyde Park Corner.
Wickremesinghe presided at a meeting of the 14-member Committee tasked to make arrangements last Wednesday afternoon. He urged each MP and Provincial Councillor to bring at least 60 persons each to the rally. In more than one sense, this rally will also become a test of strength for Wickremesinghe. Firstly, if the crowds are large, that could be argued as a message to his detractors that he still has grassroots level support. Another is a message that he was mustering the largest crowds to seek Fonseka's release.
This is particularly after the Janatha Vimukthi Peramuna (JVP) distanced itself from Fonseka saying supporting him at the presidential election was a mistake. Both the JVP and Anoma Fonseka, wife of the former Army Commander as well as others such as left leader Wickramabahu Karunaratne and civil society groups have been invited for the event. The JVP says it supports the release of Fonseka but will not participate at the rally. It is still not clear whether Anoma, wife of former General Sarath Fonseka, would take part. Her absence would naturally mean the campaign does not have the blessings of the Fonseka family. Moreover, the Fonseka issue is not one the US or any other foreign governments want to raise against Sri Lanka at any UN or other multilateral fora though a US Embassy source said yesterday, "We have long been concerned about due process for Fonseka and about his access to medical care." The US concern seems to end there.
Yesterday, Jayasuriya left for New Delhi on an official invitation from the government of India. He will meet Indian government leaders and officials. This seemed a marked contrast from regular visits previously paid by Wickremesinghe alone to New Delhi. The fact that the Indians have now invited Jayasuriya, in the light of his differences with Wickremesinghe cannot be dismissed lightly.
On the demand for the withdrawal of the Revival of Underperforming Enterprises or Underutilized Assets, President Rajapaksa made some revealing statements to six trade chambers that met him on Saturday November 5. The meeting came hours after Rajapaksa had talked to Wickremesinghe in the company of Ministers Basil Rajapaksa and Dinesh Gunawardena. President Rajapaksa told the trade chambers that Wickremesinghe had agreed to the take-over of all enterprises except three – Sevanagala Sugar Industries, Pelwatte Sugar Industries and Lanka Tractors.
Rajapaksa said he (Wickremesinghe) had during their meeting endorsed the acquisition of the other ventures. Nevertheless, the UNP has not given up its campaign to have Sevanagala Sugar Industries restored to Daya Gamage. The UNP slogan says that the "expropriation" law is Deshiya viyaparikayin vinashakereemata gena panathak (a law to destroy national entrepreneurs). Gamage is said to be underwriting most of the expenses connected with Tuesday's protest rally. On the budget, the UNP's main contention is that it has failed to provide relief to the people who are already overburdened by spiralling price increases.
Reconciliation: Local solution
For UPFA leaders, the UNP protests did not seem cause for much concern. There were other important issues. Last Sunday, the Lessons Learnt and Reconciliation Commission (LLRC) headed by former Attorney General C.R. de Silva, President's Counsel, handed in its report to President Rajapaksa. The Sunday Times revealed exclusively in its front page lead story that the Commission would ask the government to investigate incidents that might have occurred during the final stages of the war that militarily defeated the Tiger guerrillas two and half years ago. The report added: "This is on the grounds that there appears to be a prima facie case based on the information the Commissioners have received. However, the Commission has neither named the specific incidents nor identified the persons responsible for them."
Last Thursday, Gotabaya Rajapaksa, Secretary to the Ministry of Defence and Urban Development, declared that the Government was committed to "following through on its responsibilities in terms of accountability." His remarks came in a keynote address to the "Inaugural National Conference on Reconciliation – the way forward for post conflict Sri Lanka" at the Lakshman Kadirgamar Institute for International Studies. Here are relevant extracts from his address:
"The Lessons Learnt and Reconciliation Commission appointed by His Excellency the President in 2009 have gone into all matters concerned with the conflict. Its report has been handed over to the President, and if there are any specific allegations or evidence of crimes therein, investigations will be undertaken and necessary action taken against those involved. The Government is also committed to implementing general recommendations made by the LLRC with regard to reconciliation.
"However, it must be borne in mind that on all these matters, Sri Lanka will act on its own accord. As a sovereign nation with a rich culture and a proud heritage, Sri Lanka does not need external guidance to achieve reconciliation. This will be achieved through an organic, local effort consistent with our culture and our values, and not based on external ideal others try to impose on us. It is evident that cultural norms differ from country to country. People living in the United States of America, or Australia, or Canada, or the United Kingdom, or any other country, have no proper understanding of the ground situation in neither Sri Lanka nor do they understand our current cultural context. It is not for outsiders to impose their values or their judgments on Sri Lanka. It is the same Sri Lankans who suffered from the ravages of LTTE terrorism for thirty years and who are now reaping the rewards of peace that will find solutions to our national issues — not outsiders.
"It needs to be understood that during the three and a half year period of the Humanitarian Operation, the Sri Lankan military had to be expanded at a rapid pace. In the circumstances, it is possible that a few individuals who lacked the capacity to withstand the pressures of warfare with the required composure may have been recruited. This is not a very unusual thing in warfare, and there have been unfortunate examples of excesses by individuals in each and every war that has been fought, whether in the World Wars, Vietnam, Afghanistan or Iraq.
"The most crucial thing to realise is that the Sri Lankan military, as a professional fighting force, has robust internal mechanisms to minimise the occurrence of crimes during warfare as well as deal with any who commit them. With the assistance of the ICRC, the UNDP and other organisations, Sri Lankan military personnel have undergone extensive training on Human Rights and International Humanitarian Law during the past several years. Training is conducted even at the field level, and there is a strong institutional framework to monitor alleged infringements. Human Rights cells exist in each division, brigade and battalion of the Sri Lanka Army, and these cells provide assistance to the inquiries of the Military Police as well as the civil police in case of any complaints being lodged.
"During the course of the Humanitarian Operations, investigations were conducted on all allegations, including those concerning major offences including murder, rape and sexual abuse. Swift action was taken by the military to punish those individuals found guilty of such crimes. Action was also pursued in the civil courts. If, in future, any substantial evidence is provided on crimes committed by its personnel, the Sri Lankan military will not hesitate to take appropriate action."
At the same event, External Affairs Minister G.L. Peiris struck a different note. He said countries concerned over accountability issues in Sri Lanka should not be part of the Eelam lobby and called upon them to throw their weight behind Sri Lanka. He said external pressure would be detrimental to reconciliation efforts though Sri Lanka was willing to discuss the LLRC report as well as any other issue. Peiris declared that the observations and recommendations of the LLRC would be placed in Parliament. If he is right, the full report of the Commission will not be made available.
Reports that the LLRC has handed over its findings to President Rajapaksa have led to reactions in some world capitals. Significant among them is United Nations Headquarters in New York. Once the LLRC report is made public, the Sunday Times learns that UN Under-Secretary General for Political Affairs Lyn Pascoe is to visit Sri Lanka. Such a visit, External Affairs Ministry sources said yesterday, came up for discussion when President Rajapaksa held talks with UN Secretary General Ban Ki-moon when he visited New York to address the UN General Assembly in September this year. A specific date for the Pascoe visit is yet to be finalised but External Affairs Ministry sources said it was likely in January, next year. By then, the UN expects the LLRC report to become public.
Hence, reports from New York say Pascoe would hold talks with government leaders to ascertain how "accountability issues" have been addressed in the LLRC report. This, they say, is a prelude to "follow up action" UNSG Ban Ki-moon plans to take on the report submitted to him by a three-member panel of experts who examined accountability issues in Sri Lanka. The panel appointed by him was headed by Marzuki Darusman (Indonesia) and comprised Yasmin Sooka (Indonesia) and Steven Ratner (United States). They said in their report that both troops and Tiger guerrillas had allegedly committed war crimes.
In London, Foreign Office Minister Alistair Burt spoke for his government. He said last Monday, "Many hope this report will mark a significant milestone in Sri Lanka's recovery from conflict, and I call on the Government of Sri Lanka to seize this important opportunity to demonstrate its commitment to national reconciliation and accountability. Making the report public at the earliest opportunity is a vital part of this commitment and I look forward to the Government of Sri Lanka setting out the steps it will take in response to the report." Early this year, Burt was quoted as saying his government would give time till December this year for Sri Lanka to address "accountability issues."
South Africa's International Relations and Co-operation Deputy Minister, Ebrahim I. Ebrahim was on a working visit to Sri Lanka last week when his office in Pretoria issued a statement. It said "South Africa continues to encourage all Sri Lankans to pursue an inclusive political settlement for national reconciliation and economic reconstruction following several decades of civil war. South Africa has taken note of the Report of the United Nations Panel of Experts, which was appointed by Mr Ban Ki-moon; Secretary-General of the United Nations, to advise him on accountability issues related to the last stages of the civil war in Sri Lanka and which ended in May 2009. South Africa will in due course study the recommendations flowing from the Lessons Learnt and Reconciliation Commission. South Africa is of the view that domestic accountability issues must first and foremost be sought at the national level.
It remains the sovereign responsibility of States to determine what their judicial mechanisms are in ensuring accountability. Current relations between the two countries are excellent and strengthening."
In Sydney, Foreign Minister Kevin Rudd told a foreign policy dinner that the Australian government would comment once the LLRC report was publicly released. "The report that's been delivered to the Sri Lankan president, I'm looking for guidance on whether the contents of the report have been publicly distributed," he told the Australian Institute of International Affairs. Rudd said he had told the Sri Lankan Minister of External Affairs G.L. Peiris and President Rajapaksa of his intention to release an Australian response when he met them at the recent Commonwealth Heads of Government Meeting (CHOGM) in Perth. "That's what I said to the Sri Lankan foreign minister and also the president of Sri Lanka at CHOGM," Mr Rudd said.
Warning from US Senators
Three United States senators wrote to Secretary of State, Hillary Rodham Clinton on November 4 that "If, by the end of this year, the government has failed to take credible steps to investigate and hold perpetrators accountable for the array of allegations documented in the UN Panel of Experts report, the United States should openly take the lead in pressing for the establishment of such an independent international commission, either by the UN Human Rights Council or under the Secretary-General's own authority."
Here are excerpts of the letter by Senators Patrick Leahy, Robert P. Casey and Benjamin L. Cardin: "…..The UN Panel of Experts recommended the establishment of an independent international mechanism to investigate these allegations. Sri Lankan authorities have rejected any international role in investigating these crimes, have often insisted that no civilians were killed by its forces, and have instead pointed to the Lessons Learnt and Reconciliation Commission (LLRC) as the entity charged with addressing all issues related to the conflict, including accountability. The State Department has indicated that it is willing to give the LLRC the opportunity to show that it can perform this task credibly. We also look forward to receiving the LLRC's report, which is due this month.
"However, if the LLRC fails to meet the basic standards of credibility and independence that the United States has set forth, and the Sri Lankan government does not take steps to hold accountable those persons most responsible for war crimes on both sides of the conflict, we urge you to promptly press for an independent international accountability mechanism.
"As Ambassador Susan Rice stated when the LLRC was established, for a domestic commission of inquiry to serve a useful role in promoting accountability, "commission members should be and be perceived as independent, impartial and competent; their mandate should enable them fully to investigate serious allegations of violations and to make public recommendations; commission members and potential witnesses must enjoy adequate and effective protection; the commission must receive adequate resources to carry out its mandate; and the Government should undertake to give serious consideration to its recommendations."
"On August l 1, 2010, the State Department's War Crimes Office reported that the LLRC failed to meet many of these criteria, as it was not clear whether its investigations would be "linked to violations of international law," and the LLRC did not possess the requisite level of "independence and impartiality" because its members include former Sri Lankan government officials with close ties to President Rajapaksa. Similarly, the UN Panel of Experts also found that the LLRC "fails to satisfy key international standards of independence and impartiality." The LLRC has already delayed completion of its report once before, and none of its limited interim recommendations or statements have addressed issues of accountability."
"The State Department has also made clear that the Sri Lankan government must take its obligations to investigate seriously if it wants to avoid international action. Spokesperson Victoria Nuland said the Sri Lankans must "mount an investigation that meets international standards and to do it quickly." She and other Department officials have said that absence of a full, credible and independent accounting and accountability, there will be pressure for an alternative, international mechanism."
(For updates you can share with your friends, follow TNN on Facebook, Twitter and Google+)