Japan urges Sri Lanka to probe war crimes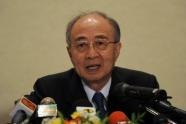 Japan, a top aid giver to Sri Lanka, on Wednesday urged the island's government to probe war crimes allegedly committed while defeating Tamil rebels and pressed Colombo to improve human rights.
Japan said it wanted "genuine reconciliation" in Sri Lanka after troops crushed Tamil Tiger rebels in May 2009 and declared an end to nearly four-decades of ethnic strife that claimed up to 100,000 lives.
Tokyo's special envoy to Sri Lanka, Yasushi Akashi, said there was a "perception of insecurity" despite the end of conflict.
"I emphasised the vital need to improve the human rights situation in this country," Akashi told reporters at the end of a four-day visit to the island for talks with President Mahinda Rajapakse and other leaders.
Akashi said many Sri Lankans still spoke of "disappearances" in Tamil areas, military occupation of private property and heavy presence of soldiers in the island's northeast.
"We have no means to verify if these statements are true, but I must say that there is a certain degree of common thread running through these comments," Akashi said.
He said Sri Lanka must do more to address accountability issues, which have also been raised by international rights organisations.
However, Akashi stopped short of calling for an international probe and said Sri Lanka could have its own investigative mechanism.
"I reiterated the importance of national reconciliation in order to achieve a lasting peace," said Akashi, who had been a key figure in raising $4.5 billion for peace-building in Sri Lanka in 2003.
He said Japan will await Sri Lanka's publication of its own findings into the final stages of the war.
The report of the government-appointed Lessons Learnt and Reconciliation Commission was handed over to Rajapakse last week and he is expected to present it to parliament next month.
(For updates you can share with your friends, follow TNN on Facebook, Twitter and Google+)