Police ordered to arrest police suspects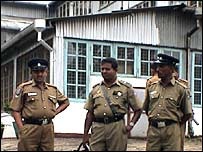 A court in the Sri Lankan capital, Colombo has ordered the police to arrest police officers accused of killing a suspect in their custody.
Strongly criticising the officers of the Fort police station for failing to arrest suspected police officers at police narcotics division, the Fort magistrate told the open court that the investigations are not satisfactory.
The magistrate made the order delivering the verdict of magistrate inquiry onto the death of Mohammed Fahim while in the custody of the narcotics division.
Though the magistrate has issued an order on 14 November to arrest the suspects and produce them before courts, the police in a report said investigations are continued to identify the suspects.
Inspector Ruvan Kumara and two other officers of the narcotics division Champika Nahinna and DM Ranil were identified at the post mortem as those who arrested the diseased.
Lawyers representing the family of Mr Fahim accused the police of failing to arrest the suspects despite their identity have been revealed.
The narcotics division has told the court that Mr Fahim died due to excessively drinking water.
But the pathologist in a report has informed the court that the amount of water in the body was not enough for him to be killed.
(For updates you can share with your friends, follow TNN on Facebook, Twitter and Google+)