Campaigners urge Theresa May in her own 'back-yard' to stop Tamils being sent back to torture!
Countries, like Britain, that are signed up to the 1951 United Nations Convention on refuges agree not to deport those claiming political asylum to their country of origin if their lives would be in jeopardy.
A recent report from the organisation Freedom from Torture indicates that, despite the war in Sri Lanka having ended over 2 years ago, in which government forces killed over 40,000 innocent civilians, torture is still rife. The report documents 35 cases of men and women who were tortured by the government since the end of the war in May 2009 and is backed by forensic evidence.
Despite this report and others from other Human rights organisations such as Amnesty and Human Rights Watch, which indicate torture continues in Sri Lanka, the Home Secretary Theresa May is ignoring the evidence and continues to send Tamil asylum seekers back to torture or mistreatment in Sri Lanka.
Recently, Theresa May office refused asylum to one of the key students involved in organising the 2009 Tamil protests in Parliament Square, which helped expose the Sri Lankan Government's massacre. Amnesty and other organisations say he would be in danger if he were returned. His name and image were in the media so the Sri Lankan Government would clearly know who he is.
In response and with the news that the next Charter Flight to Sri Lanka  is due to depart Thursday 15th December Human Rights campaigners, Act Now, plus individuals representing Tamil Solidarity and the Exiled Government of Tamil Eeelam (TTGE), launched their campaign to get the Home Secretary to stop sending back Tamils to torture in Sri Lanka in her own constituency of Maidenhead.
Activists distributed thousands of leaflets to shoppers and nearby households explaining why these deportations should cease and what they can do to stop them! DVD's of the C4 documentary Sri Lanka's Killing fields were handed out and hundreds of signatures were collected on a petition to the Home Secretary from shoppers in support of the campaign from a stall manned by supporters.
Act Now Graham Williamson stated "Our Government is in denial. Sri Lanka is clearly unsafe for Tamils, especially those who have been involved in protests against that Regime's policies. Yet, because they are embarrassed by Sri Lanka's bevahiour as a Commonwealth country, they would rather "turn a blind eye". We refuse to do the same!"
Fellow director, Tim Martin said "We were delighted with the reception we received in Maidenhead. Members of the public promised to write to Theresa May in support of the campaign and we urged them to do so!".
Act Now are calling upon all those who are concerned with Government policy over Sri Lanka to write to Theresa May to urge her not to deport Tamil asylum seekers. This can be done via e-mail: mayt@parliament.uk, by letter: Mrs T. May, c/o 2 Castle End Farm, Rushcombe, Berkshire, RG10 9XQ or Tel: 0118 934 5433.
Attached: Pictures of Maidenhead protest 3/12/11
End 
For further information, please contact:
Tim Martin, Director, Act Now
Tel: +44(0)7817 504 227
Email: info.actnow@gmail.com
Site: www.act-now.info
Graham Williamson, Director, Act Now
Tel: +44(0)7970 455 445
Email: info.actnow@gmail.com
Site: www.act-now.info
Sockalingham Yogalingam, Asst. Director, Act Now
Tel: +44(0)7948 380433
Email: info.actnow@gmail.com
Site: www.act-now.info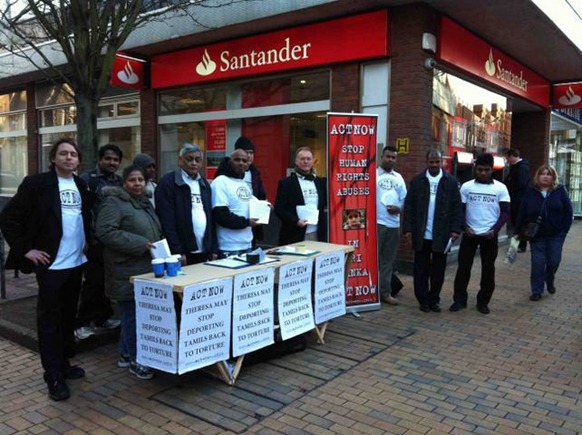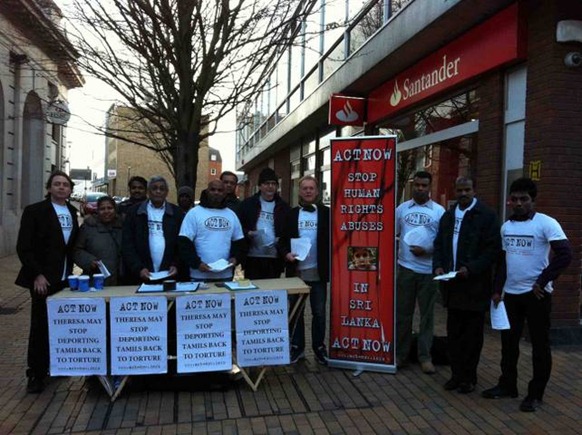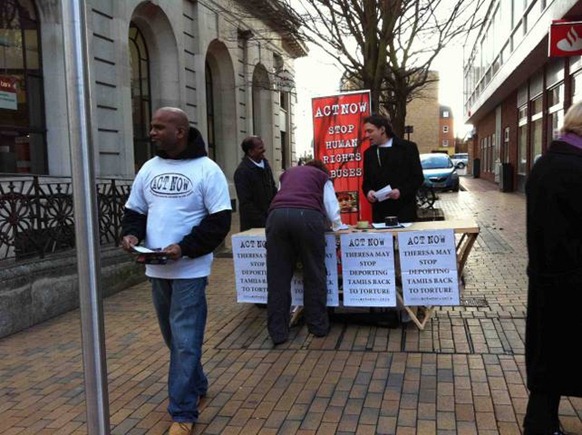 (For updates you can share with your friends, follow TNN on Facebook, Twitter and Google+)