Trincomalee war displaced 'won't go back'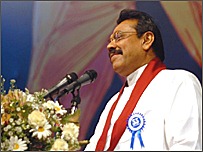 Sri Lanka's war displaced from several areas in the eastern district of Trincomalee will not be allowed to resettle in their ancestral lands, the government has confirmed.
Trincomalee Government Agent, Maj Gen TTR de Silva, said the resettlement of internally displaced people (IDPs) from Sampur has become "an international issue."
"People can not go back nearer to the thermal power plant," he told journalists in Trincomalee on Sunday.
He made the remarks at a conference on media development which was also attended by the Director General of Information, Prof Ariyaratne Athugala.
Media has an important role to play "in building a bridge between people and development," said Prof Athugala.
'Land grab'
The journalists attended the seminar then pointed out that the government has not attempted to resolve many issues raised by the media, including the resettlement in Sampur.
"The Ceylon Electricity Board new buildings are also being constructed there and the area has been demarcated for new related industries," was the response by the government agent.
Sampur was among the first major Tamil Tiger strongholds in the east that was re-captured by the security forces.
The government officials were also told that 1500 fishermen have lost livelihoods as a result of a new saltern is being built in Kuchchuveli.
Responding, Maj Gen de Silva said decisions regarding acquiring land have been taken from the higher echelons of the government including the president and cabinet of ministers.
"I think it is a shame that 60% of salt intake in Sri Lanka is imported," he added.
The journalist also pointed out that farmers were banned to cultivate 700 paddy land in Kappalturai that has been cultivated for generations but Maj Gen de Silva said those decisions were taken by the government hierarchy.
The North – East Sinhala Organisation (NESO) earlier accused the government of land grab in eastern Sri Lanka.
(For updates you can share with your friends, follow TNN on Facebook, Twitter and Google+)