Disappeared activist 'received death threats'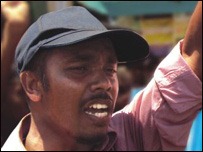 R.Weeraraj, father of Lalith Kumar Weeraraj who disappeared last week in Jaffna says that he received threatening telephone calls before his son's disappearance.
Lalith Kumar Weeraraj and Kugan Muruganathan disappeared on the International Human Rights Day which fell on December 10, Saturday.
R.Weeraraj said that they have been engaged in helping people held in detention and was able to secure the release of some.
Helping the need
"We know those who come from the South do not speak Tamil and people in the north do not know Sinhala. His aim was to assist helpless people in various camps", he said.
A month back he received several disturbing calls and one day an unidentified person phoned and asked about his identity and missing son, he said.
"Either you keep your son at home or shall we keep him in Jaffna", the person threatened me, Mr.Weeraraj told BBC Sandesaya.
Ten days after that, he said, a person had come to his locality and inquired from a neighbour about himself and his son.
"I was scared and informed party members (JVP dissidents)," he said.
On December 8th Lalith Kumar came home with a friend and said they both were heading for Jaffna.
"The same night he phoned my daughter from Jaffna".
"On the 10th of December, I received several calls from Lalith's friends who told me that my son's phone is not working," he added.
On-going investigations
Police say they have no information about the whereabouts of the two men and are investigating.
Superintendant of Police Ajith Rohana told BBC Sandeshaya that police is also investigating a death in police custody in Jaffna.
Asian Human Rights Commission (AHRC) said that the body of Sri Skandaraja Sumanan arrested by police in late November was later found in a waterway.
"Relatives state that Sumanan had been tortured at the police station and his body was thrown into the canal by the police," said AHRC.
At the post mortem held in the Polonnaruwa hospital on the 26th of November about 40 injury marks have been found on the body.
(For updates you can share with your friends, follow TNN on Facebook, Twitter and Google+)