Fonseka 'guilty' verdict criticised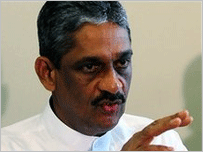 The family members of the imprisoned former military commander and opposition parties in Sri Lanka have strongly criticised the dismissal of his petition against a military court verdict.
A three-member panel of the appeals court has dismissed the petition filed by former general Sarath Fonseka against his conviction by the second court martial that sentenced him to 30 months in jail.
The second military court found him guilty – in September, 2010 – of corruption in purchasing equipment to military through Hicorp company, while Mr Fonseka was the army commander.
In his petition, Mr Fonseka has argued that the judges at the second military court have been biased against him as a result of the judges were subjected to disciplinary inquiries while Mr Fonseka was the army commander.
'Biased judges'
But the appeals court said the petitioner has failed to provide evidence to prove his allegation against the military court judges.
"Nothing special about this verdict; this is a verdict we expected," was the response by Anoma Fonseka, the wife of the petitioner.
"What else could we expect in this country where there is no justice and no law and order," she added.
Leading opposition members, who have gathered at the court premises to witness the case, were also critical of the judgement.
Sajith Premadasa, MP, the co-deputy leader of the main opposition UNP, said he is more determined to campaign for the "unconditional freedom" for Mr Fonseka.
"At a time LTTE terrorists such as Karuna Amman, Pillayan and Kumaran Pathmanadan are enjoying state-sponsored luxury facilities, we are determined to get Sarath Fonseka released without conditions," he told journalist outside court.
The JVP parliamentarian Vijitha Herath said the Sri Lankan public will lose confidence of the judicial system as a result of "continuous recent verdicts."
(For updates you can share with your friends, follow TNN on Facebook, Twitter and Google+)