JVP dissidents protest against Jaffna abductions of HR activists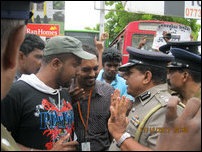 Around 200 people, who were brought from South by the JVP dissident group, "Movement for People's Struggle" staged a protest in Jaffna Saturday in front of Jaffna Bus Stand, demanding the release of Lalith Veeraraj, the Jaffna district organisor of the group and his friend Kugan Murugananthan. Sri Lanka soldiers and policemen equaling the number of the protestors were deployed at the site of the protest between 12:30 and 1:30 p.m. Meanwhile, the motorbike of the abductees has been recovered two days earlier, along the borders of SL military High Security Zone in Achchuveali surrounding the Palaali military base.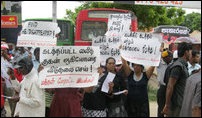 Sources in Achchuveali said the practice of the SL military squad involved in abduction is to take the victims inside their vehicle. The motorbike could have been abandoned when the abductors took the victims into their vehicle for transport within the HSZ.
Mr. Veeraraj, the Jaffna district organisor of the JVP dissidents and Mr. Muruganathan, left the house from Aavarangkaal Sivan temple area around 5:00 p.m. last Friday in a motorbike with registration number NPGT-7852.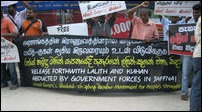 On Saturday, JVP dissident parliamentarian Ajith Kumara, who came from South had to argue with the SL police to stage the protest in Jaffna.
After the protest, a group of protestors went to Thinakkural newspaper offices in Jaffna, and when the group came out, they saw their vehicle had been damaged. Residents in the area said a squad believed to be SL military intelligence operatives came in motorbikes and smashed the windows of the vehicle.
(For updates you can share with your friends, follow TNN on Facebook, Twitter and Google+)