Rajapakse case, a legal pioneer, reaches historic milestone, says Fein
An historic legal milestone was passed last Friday in the Torture Victims Protection Act (TVPA) lawsuit against Sri Lankan President Mahinda Rajapaksa for the extra-judicial killings of six Sri Lankan Tamils pending in the United States District Court for the District of Columbia, attorney for the plaintiffs, Bruce Fein said. A lawyer representing President Rajapaksa from the mega-law firm Patton Boggs LLC tacitly acknowledged receipt of the complaint and summons filed by the Plaintiffs in a motion to request the District Court to ask the U.S. Department of State for its views about the lawsuit. "The motion filed by President Rajapaksa formally brings him into the case, where for the first time he will be accountable to the rule of law, not the rule of the jungle," Fein added.
Excerpts from Fein's statement to TamilNet follow: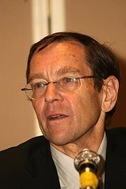 "It can be anticipated that Patton Boggs will launch a massive lobbying effort at the State Department and in Congress in hopes of eliciting executive and legislative opposition to the TVPA lawsuit voiced to the United States District Court. The District Judge, however, has the final word irrespective of the President or Congress.
"We urgently need Tamil expatriates' generous support to launch an ambitious counter-campaign to recruit human rights groups, Nobel Peace Prize winners, former State Department officials who headed its human rights bureau, Members of Congress, and the media in favor of litigating the TVPA claims and against any legal immunity for President Rajapaksa.
"This case is a legal pioneer in several respects, and the legal research and analysis to litigate will be challenging. But if we can prevail on the immunity question, then countless other victims of President Rajapaksa's signature human rights atrocities could file TVPA suits by piggy-backing on our legal victory. Among other things, President Rajapaksa is claiming act of state, sitting head of state, foreign sovereign immunity, political question, and personal jurisdiction defenses.
"We all know that the Lessons Learned and Reconciliation Commission report is a joke to enable President Rajapaksa to escape accountability for his endless human rights crimes. The pending TVPA lawsuit in the United States is our best hope to foil that ignominious escape," Fein told TamilNet.
(For updates you can share with your friends, follow TNN on Facebook, Twitter and Google+)