Floods affect life of resettled families in Vanni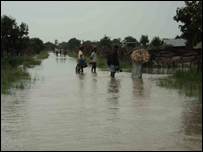 Heavy rain and floods have made life miserable to thousands of resettled families in the Vanni. Over 6500 families in the Killinochchi and Mullativu districts have been badly affected, officials said.
Irrigation tanks are over flowing and Shivapuram village in Killinochchi is inundated with flood water.
Temporary accommodation
Affected families have sought refuge in public buildings and schools.
Government Agent, Killinochchi, Rupvathie Ketheeswaran said that most of the families in the Killinochchi district are displaced due to flood water.
"1369 families have been accommodated in twenty four temporary shelters and they are being provided with dry rations", she said.
Almost all the government servants have been deployed to facilitate them, however, rains prevent them from their relief work, she added.
Government Agent, Mullativu, Nagalingam Vedanayagam said that 3000 families are in three temporary accommodation.
However, he said, he was not sure about the exact number of families displaced as there are areas where they could not reach.
Sluice gates open
Irrigation Director, Killinochchi, Navartnam Sudhakaran said that the sluice gates of Iranaimadu tank have been opened to maintain a safe water level and as a result the number affected has increased.
(For updates you can share with your friends, follow TNN on Facebook, Twitter and Google+)