Indian response to Sri Lanka commission 'incorrect'
A partner of the ruling coalition in Sri Lanka, says that the present government has not given any assurances to India to devolve more powers to provinces.
Legal Advisor of the Jathika Hela Urumaya and Minister of the Western Province Udaya Gammanpila told journalists in Colombo on Tuesday, "it is incorrect to say that the Sri Lankan government has assured India that it will fully implement the 13th amendment".
On the Christmas Day, welcoming the report of Lessons Learned and Reconciliation Commission (LLRC) , an Indian Government spokesman has said that the Government of Sri Lanka has assured on several occasions to fully implement the 13 amendment 'and to go beyond' in order to 'achieve a meaningful devolution and genuine reconciliation'.
The 13th Amendment to the Sri Lankan constitution, implemented following the 1987 Indo-Lanka accord provided for devolution of powers to Provinces.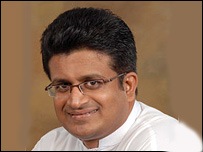 Responding the Indian statement, Minister Gammanpila said "the Government of President Mahinda Rajapaksa clearly stated that it is against devolving police and land powers to the provincial councils as well as the unification of the north and eastern provinces as proposed in the 13th amendment."
Clarify
"Therefore we ask India to clarify which Sri Lankan government has given this assurance," he added.
Government talks with the leading Tamil political party in Sri Lanka, Tamil National Alliance (TNA) has met a deadlock following disagreement on power devolution.
The government has said, 'President Mahinda Rajapaksa has reiterated that the demand of the Tamil National Alliance for police powers to the North and East is not a practicable proposition'.
One-sided report
Describing the LLRC report as one-sided, Secretary of the JHU, Minister Patali Champika Ranawaka said "there are no recommendations to conduct investigations against the LTTE atrocities but the army and navy".
However, the commission set up by Sri Lanka's president to investigate the conduct of the civil war has said the government did its best to protect civilians.
The LLRC was set up by President Rajapaksa last year amid mounting pressure to investigate abuse.
(For updates you can share with your friends, follow TNN on Facebook, Twitter and Google+)