"'Kolaveri' – 2011′s top song" says CNN (US) !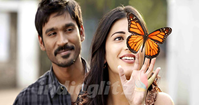 As if the Youtube award for Anirudh's 'Kolaveri…' was not enough here comes its next conquest. This song is now featured in CNN International as the world's top song of 2011!
The song is so popular that you just have to key in "why" in websites and the very first dropdown option will be 'Why This Kolaveri…' While the news reader was not able to even spell out the words 'Kolaveri Di' correctly he goes on to give vivid details about this number.
The "soup song" as Kolaveri is called in its place of birth, Chennai, has also opened vast and new avenues for its singer and hero Dhanush of '3′.
Just a week back a flash mob in Auckland, New Zealand, danced for this song. Not only that, since the phrase 'Why this Kolaveri Di…' has become so popular, the cops in the state are using this phrase and urging bike riders to wear their helmets. At some hoardings in Kolkata too cops have used different versions of this phrase urging motorists to wear their helmets.
Now 'Kolaveri…' has innumerable number of imitations by people belonging to different languages, different races, different countries and even children! Even the makers of this song wouldn't have anticipated this "Kolaveri" popularity for their single…
(For updates you can share with your friends, follow TNN on Facebook, Twitter and Google+)