Kurdish civilians killed in 'Sri Lanka style' attack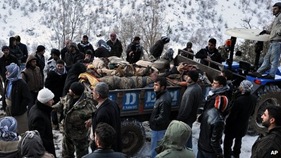 In a deadly strike that was carried out in Uludere of Sirnak province in Turkey's Southeast region on Wednesday, Turkish F16's killed at least 36 Kurdish civilians. While the ruling party AKP's spokesperson called the attack an 'operational mistake' and the government has claimed that there will be investigations in to the matter, the PKK said in a statement that the strike was "the result of the all-out war concept developed by the AKP (Justice and Development Party) government against our leader, movement and people. This is the continuation of the system of arrest and torture that aims at intimidating our people". Even as the PKK called for an uprising, there have been huge protests by the Kurdish people in Turkey's capital and other places.
Deputy Prime Minister of Turkey Bulent Arinc said in a televised interview that "Turkey is combating terrorism and in that fight incidents like this may occur. If there's neglect, a mistake or intent in this event, then the people responsible will be revealed and they will bear the consequences."
Turkey was one of the states to immediately congratulate Sri Lanka after the Mu'l'livaaikkaal genocide and has provided political and material assistance to Sri Lanka. Also, many military analysts in the Turkish official circles considered the 'Sri Lanka style' solution as an effective model for dealing with the Kurdish national question.
Likewise, many Kurdish activists and journalists have also likened their condition to that of the Eezham Tamils.
The International Community's silence while Sri Lanka successfully executed its genocidal war manoeuvres in Mu'l'livaaikkaal with deliberate targeting of civilians, and its complicity in the structural genocide of the Eezham Tamils in their homelands by the occupying Lankan colonizers by its failure to address the national question provides an inspiration for states like Turkey to use such methods against similar struggles, commented a Tamil academic.
(For updates you can share with your friends, follow TNN on Facebook, Twitter and Google+)