Aishwarya Dhanush – Tamil Cinema Director Interview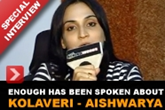 Aishwarya Dhanush is making her maiden directorial venture with 3 with husband Dhanush and friend Shurthi Haasan in lead roles. 3 is already popular across the globe thanks to 'why this kolaveri di' and the confident director speaks to behindwoods.com on 3, directing her superstar dad Rajnikanth and many more.
What is the genre of 3?
3 is an emotionally charged film and it would come under romantic genre.
Why did you choose Dhanush?
When I wrote the script, I felt the role was tailor made for Dhanush. Hence I chose Dhanush for 3.
Did Dhanush immediately agree to the project?
No, Dhanush did not agree at once. I had written the story for a short film and when Dhanush heard this, he felt that it could be made into a feature film as the main knot was good. Then I took nine months to transform that into a feature film. Then he said he would do the project if his dates were available and when dates were freed, he came on board.
Did Dhanush help you out in the script?
Yes, if he was at home while I was scripting, he would throw in a few ideas and there are definitely many valuable inputs from him.
Shruthi Haasan's role
Shruthi is the heroine and her role is on par with that of hero's. I was very keen to portray Shruthi in a different light and she would come across very differently in 3. Shruthi would look very natural, de-glam and like the 'girl next door'.
You first chose Amala Paul and then what happened?
No, we first chose Shruthi. But as her dates were not available, Amala Paul came in. Later she got busier in Telugu and there were clash of dates and incidentally, Shruthi's dates got freed that time and she joined us. So there are no misunderstandings or hard feelings anywhere. Ultimately, it is all destiny and the one who got the role was destined to get it. That's about it.
Music Director Anirudh
Anirudh has worked with me in my short films. My comfort levels with Anirudh are good. And I also wanted a newcomer as he would be ready to give any time of his day to work with me. In case I don't like the tune, he must be ready to give in as many tracks as possible. This comfort level will come in only when we form a team. As regards Anirudh's music, I find it very fresh, youthful and it sounded very different to the ears.
Kolaveri song
Enough has been spoken about Kolaveri song. As told many times, it was not planned- be it the lyrics or the tune. We had also not expected such a success and popularity of this proportion. When things are not planned, perhaps, it would be like this.
Is your script a negative one?
I don't want to say anything about this now. You should keep guessing till the movie is released and that's going to be my plus.
Did Dhanush offer you any suggestions at the shooting spot?
Film making is a team effort and in that sense, if any input that is going to work positive for the film, why not take it? He was not giving suggestions all the time but when he gives and if they were useful, I was taking them.
This is your first directorial venture. How was it to work on the spot?
It is a not a new experience for me to work on the spot as I have worked with Suresh Krisna in Baba and with Selvaraghavan in Aayirathil Oruvan. The shot experience is not new to me but as a director to work at the spot was new.
Velraj
Velraj is one of my best friends. According to me he is one of the most talented cameramen in the industry. He is the fastest I would say. He would give in the desired quality in the shortest time span. He is also much involved in the script. Basically Velraj is a very nice human being.
Would this film be a trendsetter?
You should only say that after you watch the film. I am not sure if things would work out when you want something to be different or a trendsetter. We have to do our work sincerely and justify the script. After that you need to let the audience decide.
Would 3 satisfy Dhanush's fans or would it be directors' film?
I don't know. As I had said earlier, if we work with specifications and restrictions, it would not justify the script. It is important that we give what the script requires. I have given what the script needed and the rest audience only should decide.
When is 3's release?
January end or February 1st week.
Do you have any plans to bring Rajni in 3?
No, I don't have such plans.
In future, do you want to direct a film with Rajni?
Who would not like to make a film with Rajni? I also would love it. Let's see. Time will tell.
(For updates you can share with your friends, follow TNN on Facebook, Twitter and Google+)