Flashback 2011: Best 11 movies of 2011

Here we bring you the list in alphabetical orders…
7 Aum Arivu: 'An important historic personality is forgotten and ignored in his homeland,' this forms the basic crux of this film. Revisiting and recreating history on screen is one of the greatest challenge in cinema but Murugadoss and his team has managed to do it well.
Director: A.R. Murugadoss
Listen to and download the songs of 7 Aum Arivu songs here.
Aadukalam: What if you get so involved that you forget about the whole theatre ambiance and feel you are living in the story being portrayed on screen? Aadulakam is one such experience and no wonder that the film has bagged six National awards this year.
Director: Vettri Maran
Click here for Aadukalam songs
Deiva Thiirumagal: It's one of those movies at the end of which you'll pick up your phone and call your dad just to hear his voice! Deiva Thiirumagal is Vikram's film almost made to order!
Director: Vijay
Deiva Thiirumagal Photo Gallery
Engeyum Eppodhum: When we read about road accidents daily in newspapers, they are just news items for us, but for one who experiences it in reality, an accident can be a turning point in life. This forms the basic crux of Engeyum Eppodhum, a neat entertainer with a strong message.
Director: Saravannan
Engeyum Eppodhum Photo Gallery
Kaavalan: A good script will succeed everywhere and Kaavalan is the best example! The film, which is a remake of Malayalam blockbuster Bodyguard, has been remade in Tamil, Telugu, Kannada and Bengali.
Director: Siddique
Click here for Kaavalan exclusive stills
Ko: The stylized blockbuster of 2011! Ko is a king six film from K.V. Anand and Jiiva. A breezy, racy, fun ride entertainer that keeps you glued to your seats for the entire show.
Director: K.V. Anand
CLICK HERE FOR Ko Songs.
CLICK HERE FOR Ko trailer.
Mankatha: 130 crores and the biggest blockbuster of the year! The film that brought back Thala Ajith to the top slot again. Should we say anything more?
Director: Venkat Prabhu
Click here to read Mankatha review.
Listen to Mankatha songs.
Mayakkam Enna: The pain of love, alcoholism, betrayal, failures in life, how love leads to self-destruction?, a pinch of reality, an emotional story, amazing acting, lively character; that is Selvaraghavan's Mayakkam Enna!
Director: Selvaraghavan
Osthe: Salman Khan did it in Bollywood and Simbu weaved the same magic in Tamil. Don't miss the fun filled story of this corrupted cop who has his own philosophies in life.
Director: Dharani
CLICK HERE FOR Osthe songs.
CLICK HERE FOR Osthe trailer.
CLICK HERE FOR Osthe photo gallery.
Siruthai: Siruthai will be remembered as one of the most entertaining movies in Kollywood and is Karthi's confirmation as an A grade actor, a worthy competitor to Suriya; Karthi has risen.
Director: Siva
Listen to and download Siruthai songs here.
Velayudham: It's Ilayathalapathy Vijay all over again; he carries the entire film on his shoulder single handedly. He is a typical super hero here; he bash the goons, mouth punch dialogues, dances well and loves his sister more than anything.
Director: Jayam Raja
Click here for Velayudham songs.
Click here for Velayudham trailer.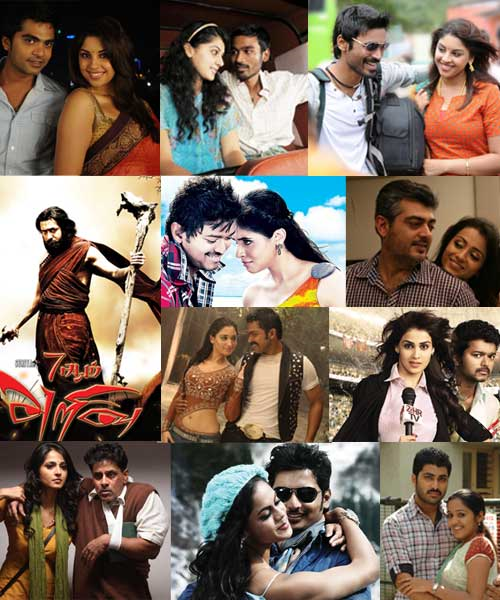 (For updates you can share with your friends, follow TNN on Facebook, Twitter and Google+)