Oil Leeching Possible By India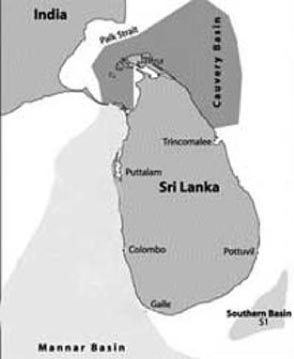 The danger of the possibility of oil being pirated from Sri Lanka's side by India was highlighted by an off shore oil consultant at a seminar on Wednesday.
Dr. Amaranath S. Kumara, Consultant, Scandpower AS Norway said that he couldn't understand why the contract to quest for oil in Sri Lanka was given to an Indian company, Cairns.
Leeching of oil from India to Sri Lanka could take place when drilling for oil under the seabed by horizontal drilling from the Indian side to the Sri Lankan side.
In particular, it could take place at the narrow Cauvery basin, where on the Indian side they have had already struck oil.
Cauvery basin is closer to Jaffna and forms part of the narrow Palk Straits that separates Sri Lanka from India, where at its narrowest point the distance between the two countries is 22 miles.
Sri Lanka has currently contracted Cairns, India, to drill for oil, south of the Cauvery Basin, in the area that falls under the Mannar Basin, at a distance of some 70 kilometres from India.
Delivering a lecture titled "Offshore Oil & Gas Production in Norway and its Relevance to Sri Lanka" at the Institution of Engineers; he said that hydro carbons have been discovered by Cairns at a depth of more than three kms. off Mannar, similar to the depth at which oil has been discovered in the North Sea by Norway. Discovery of hydrocarbons is generally indicated as a harbinger heralding the presence of oil and gas.
The thickness of the hydrocarbon layers discovered, of 25 metres, is also similar to the thickness of the layers found in the North Sea oil fields. In comparison, the thickness of such hydrocarbon layers found onshore in the Middle East is some 200 metres, said Kumara.
Cairns which has dug three test wells in the block allocated to it in the Mannar basin has found hydrocarbon deposits in two, with the next step being to find out whether the oil/gas deposits available are in commercial quantities to make it worthwhile to exploit that resource.
As the offshore hydrocarbon layers found in Sri Lanka and in Norway are smaller in thickness, the most economical way for drilling for oil is horizontal drilling where the extraction assured is some 60% compared to a mere 20% in vertical drilling in such instances, he said. The Norwegians are specialists in horizontal drilling, he added, going up to a length of some 7.2 km. (4.5 miles) in such drilling.
The Mannar basin is estimated to hold one billion barrels of oil according to reports.
Kumara alleged that Cairns India's former parent, Cairns UK, was virtually unheard of in questing for oil in the North Sea.
He also questioned Government of Sri Lanka's wisdom in rescinding the earlier contract with Nopec Norway, in the island's quest for oil. Kumara further said that before going into building expensive oil platforms, it was imperative to do further tests to ascertain the feasibility of the project, like what the Norwegians do before going into such capital investments.
He said that safety and environmental protection was important when questing for oil. "Otherwise marine life will die," said Kumara.
He also said that the explosion at Piper Alpha platform in the UK side of the North Sea in 1988 resulted in 167 deaths and an insurance loss of  US$ ($) 3.4 billion. Similarly the disaster at the Gulf of Mexico in 2010 resulted in 11 deaths and an insurance loss of $ 35 billion.
As concentration is paramount when working on oil platforms, mobile phones are not allowed. In a Norwegian oil platform on which Kumara had worked, it was a 12 hour working shift for two weeks, with the next four weeks off. An oil platform is like a five star hotel, he further said.
Kumara said that Norway which once was a poor country became rich because of oil. Its per capita GDP is $ 84,000. Norway is the third largest oil exporting country in the world. The Arctic which holds 25% of the world's remaining oil and gas reserves, is the next venture for exploitation. However the debilitating factor is the cold and the snow with temperatures as low as minus 50 degrees Centigrade, Kumara said.
(For updates you can share with your friends, follow TNN on Facebook, Twitter and Google+)