Sameera's hacker pal!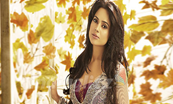 How would you react if your bank account was hacked? Worse, what would your reaction be if the hacker called you up and offered you tips to prevent hacking? This is exactly what happened recently to the 'Vedi' woman Sameera!
Sameera, it is reported, got a call from an unknown number on her mobile phone. The actress did not pay heed because she did not know the caller. But when the caller was persistent, the actress answered the call. The speaker revealed that he was an Indian calling from an unknown location in the US and that his "gang" had hacked Sameera's account and misused money close to 4 lakh rupees, all this without the actress coming to know about it.
The perturbed actress cross checked the hacker's statement and to her shock found it true. But, after coming to know whose account he had hacked the guy refunded Sameera's account with the amount he misused which came to about 1 lakh. He is also believed to have asked her about being more careful while doing money transactions online.
(For updates you can share with your friends, follow TNN on Facebook, Twitter and Google+)