India depends on Lanka's security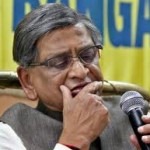 "Security wise, we are dependent on Sri Lanka – there are large security concerns that can affect both countries in the Indian Ocean. We would like to continue to keep on the right side of Sri Lanka", said Indian External Affairs Minister S M Krishna in an interview with the Business Standard.
Relations have improved but they were always good even when Prabhakaran was riding high on the LTTE banner. The Indian government has never provided overt or covert assistance (to any group in order) to maintain bilateral relations with Sri Lanka, he further said.
Speaking with regard to the assistance provided by the Government of India the Minister stated that,"we are assisting Sri Lanka in the rehabilitation of displaced persons. I will be going to Colombo on January 16. I am looking forward to the visit and would like to see the relationship firmly anchored".
When questioned about the Sri Lanka's developing relations with China Mr. S M Krishna said "we are concerned with bilateral relations with our neighbours and would like to anchor them securely. As far as their relations with third countries are concerned, we cannot impose our will on them: we respect their attitude to other countries. But we would like to conduct our relations with them on the basis of goodwill and good neighbourly relations".
The interview covered a wide rang of issues on international affairs, regional cooperation, security and India's relationships with neighbouring countries. (iewy.com)
(For updates you can share with your friends, follow TNN on Facebook, Twitter and Google+)