SL Military governor sabotages Jaffna GA meeting British Conservative MP
Sri Lankan colonial governor of North, Major General (retd) G.A. Chandrasiri, on Wednesday instructed the SL Government Agent of Jaffna district, Ms. Imelda Sugumar, to come to his official residence and have meetings with the visiting British Conservative MP James Wharton, canceling her meeting at Jaffna District Secretariat with the British parliamentarian of UK – Sri Lanka Parliamentary Group. Colombo's Ministry of Public Administration and Home Affairs has recently 'reminded' the officials of the administrative sector in North and East that the foreign diplomats need to secure permission through the ministry in Colombo before meeting the officials. Ms. Imelda Sugumar had to receive Mr. Wharton at Alfred Duraiappah Stadium and join the delegation to governors residence, civil sources in Jaffna said.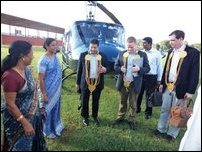 Civil circles in Jaffna alleged that the Sri Lankan authorities did not want the visiting British Conservative MP to independently witness the situation even through the civil authorities of the Sri Lankan state.
The visiting MP and his crew were briefed by the occupying military 'developers' who showcased the military-led projects of structural genocide as 'development', civil sources told TamilNet.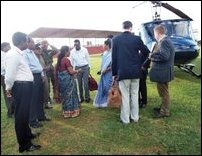 Colombo authorities earlier transferred Government Agents of Mannaar, Mullaiththeevu and Ampaa'rai.
Divisional secretaries in the Batticaloa district from the areas bordering the Sinhala districts, who object to the plans of Sinhala colonisation and Sinhalicisation are also threatened with transfer orders from Colombo.
The visiting British Conservative MP has met the SL presidential sibling and defence secretary who has also taken over 'urban development'. Matters of bilateral interest were discussed between Mr. Gotabhaya and Mr. Wharton, according to SL Defence Ministry.
Mr. Wharton also met SL minister of Industry and Commerce Rishad Bathiutheen, who is long known to be intervening in the affairs of resettlement and the aid disbursement in Vanni misappropriating the funds and abetting Colombo's structural genocide.
Mr. Bathiutheen was campaigning the British politician to promote Colombo as a base for British export to India projecting the framework of Indo-Lanka Free Trade Agreement.
"Sri Lanka provides a friendly atmosphere for British Investors, especially to invest in the North and East," Mr. Bathiutheen was quoted by media in Colombo as telling the visiting British politician.
(For updates you can share with your friends, follow TNN on Facebook, Twitter and Google+)