STR goes global; teams up with international musicians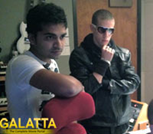 Guess who is teaming up with STR for the World peace song? It's none other than multi platinum winning music producer and songwriter Élan Morrison, who has worked with well know international musicians like Velvet Revolver, Dr. Dre, Slash, Sean P. Diddy Combs, Tony Braxton, Macy Gray, DMC, Kanye, Bobby Brown, Booker T, Bones and Seal, Slayer. STR is leaving no stones unturned to make his Love Anthem an international phenomena. He is making sure that every one, from the recording artist to the musicians, delivers world class performance in this track. The song will be recorded at the prestigious URMK studios in LA.
The song will have lyrics in 96 languages! Apart from rendering the song, Simbu has also written the lyrics and composed the music of this track. Divided by Languages, United by Love; this is the basic theme of the song. The recently released 2 min teaser of the video has already become a viral rage.
CLICK HERE TO SEE STR recording Love anthem at URMK studio pictures
If you are unable to see the video below, CLICK HERE!
(For updates you can share with your friends, follow TNN on Facebook, Twitter and Google+)