Ball for Karuna, jail for Fonseka
Former Army Commander, one time General Sarath Fonseka, who led troops to victory in the military battles against Tiger guerrillas, has been at the Welikade jail for almost three years. For one of his erstwhile enemies in the battlefield in the years before, it is a different story.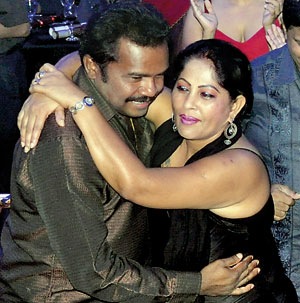 Vinayagamoorthy Muralitharan alias "Colonel Karuna," a onetime 'Eastern Commander' of the Liberation Tigers of Tamil Eelam (LTTE), was joyously welcoming the New Year at a luxury hotel in Colombo. It was only weeks earlier, the Lessons Learnt and Reconciliation Commission (LLRC) wanted Karuna investigated over the massacre of 600 police officers in the East when Ranasinghe Premadasa was President.
He shook, rattled and rolled to the music of the Gypsies. He was seen toasting glasses of whisky with other revellers. Not surprisingly, some chose to walk away instead of saying 'cheers' to this present day Minister.
"Would the victorious Americans or British have had a New Year party with Hitler singing," asked an irate retired military officer at the bash. "Only in Sri Lanka, a land like no other" consoled his friend as they took their swig of arrack.
Mervyn in major battle with Kelaniya UPFA members
Minister Mervy n Silva, the Kelaniya 'doctor', who has his own set of laws, has come under fire from Pradeshiya Sabha members of the ruling party in the Kelaniya area. They held a news conference to condemn his past activities and call upon the government to take action.
When asked for his comments over allegations that he has become a major hurdle to local politicians in the area and was allegedly extorting money, his reply was rather uncharacteristic. "I will not do anything now. I will mind my own business and stay on the side-lines," he said.
Early last week, there were posters in Kelaniya criticising Dr. Silva. On Friday, they were replaced by two different posters. One said Kelaniye Janathawa Oba Samagai (People of Kelaniya are with you) and Obey avankabhaya api danimu (We know your honesty). They were daubed with black paint or tar.
Policy confusion, contradictions within contradictions
Sri Lankan Ministers and officials Sare becoming too well known for their double speaks. What they say today turns out to be just the opposite days later. No prizes are offered for guessing this week's candidates. Topping the list for the latest contradictions is the official government spokesperson and Media Minister Keheliya Rambukwella, Central Bank Governor Ajith Nivard Cabraal and Sri Lanka's Ambassador to the United States, Jaliya Wickremesuriya. The trio hold important positions in the UPFA government and their views are taken seriously by not only Sri Lankans but also those abroad. But the question now is which version of theirs is the correct one and which is, to put it mildly, the spin not closer to the truth.
On December 23, Mr. Rambukwella declared at his regular news briefing, held usually after the weekly Wednesday Cabinet meeting, the UPFA government would not discuss land or police powers for Provincial Councils. "The Tamil National Alliance (TNA) should not waste its time discussing these subjects since they would not be granted," he said.
He claimed that the TNA had taken an "extremely negative stand and kept demanding power devolution on subjects which the government is not prepared to accept."
Last Sunday, as exclusively revealed in the front page lead story in the Sunday Times, Minister Nimal Siripala de Silva, who is a senior colleague of Rambukwella, said the government would indeed discuss land and police powers among other matters. Two days later, Mr. de Silva was quick to say such a move was not at the behest of India since the government would not be goaded into such actions by any other country. The official climb-down followed reports of the impending visit of Indian External Affairs Minister S.M. Krishna.
The official news portal of the Government – news.lk – has this to say: "Sri Lankan Government spokesman, Media Minister Keheliya Rambukwella said that though the government is concerned about giving land and Police powers to the provinces it is prepared to consider its scope provided the Tamil National Alliance puts forward its proposals at the talks with the government.
"The Minister told Sri Lanka news.lk web site that the government has concerns about devolving absolute Police powers to the provinces as in such an event the head of the country could be barred from entering the province without Police permission. The Minister said that a similar situation that prevails in India is very much detrimental to Sri Lanka as the country is smaller country in size than even an Indian State.
"As a Government we are concerned about giving Police and Land powers to provinces. However, we are ready to consider giving those powers within a certain scope if such a proposal is made by the TNA to the Government. For that the TNA should remain at talks with the Government" Minister Keheliya Rambukwella said. Dealing with day to day affairs such as smaller crimes and complaints could be dealt with by Provincial authorities……"
How subjects which the government refused to negotiate, as categorically declared by Minister Rambukwella with advice to TNA "not to waste their time" become negotiable "if they make a proposal," to say the least is laughable. The reason — even official policy seems to be shifting week by week or even day by day.
On January 1, the Sunday Times reported in its front page lead story that "Sri Lanka has been listed as among a group of high-risk financial systems in Asia and the Pacific by Fitch Ratings, a claim rejected by the authorities but endorsed by economists and stock market analysts.
"Central Bank Governor Ajith Nivard Cabraal said it was an insignificant statement given that all the countries mentioned as high risk – India, China and Sri Lanka – had all achieved high growth. "There is huge unemployment in Britain, Europe and the US. Why can't they (Fitch and other agencies) talk about that (and the high risk in those nations)," he asked.
"But analysts said the very fact that these countries (all are Sri Lanka's main export markets) were going through a major crisis means the country would face a severe crisis next year. "We are talking of high growth next year when most of the developed world is lowering their forecasts," said an analyst, with an economic background, attached to a leading stock brokerage.
"He said while Sri Lanka was projecting a 8.3 % growth next year from 8 % this year, China had lowered growth forecasts for 2012 to 8.5 % from 9.3 % in 2011 while India was forecast to grow by 7.8 % next year, down from 8 % in 2011. Singapore has also dropped its growth forecast figures to 3 % in 2012 from 5.2 % in 2011………."
Cabraal who pooh-poohed the Fitch rating said on January 3 at his annual presentation of the roadmap for Sri Lanka economy that a 9 per cent growth in 2012 has been lowered to 8 per cent." The reason he gave: "trouble in key export markets as a result of the European crisis caused global economic conditions to falter, resulting in revised growth forecasts for other emerging economies."
Isn't that what Fitch said in so many words?
Sri Lanka's Ambassador to the United States told The Washington Times in an interview that those accused of war crimes, as reported in these columns last week, would be held accountable. The External Affairs Ministry's official position is that no such "war crimes" have taken place. So how anyone could be held accountable remains the question?
Sajith to work outside Sirikotha
UNP Deputy Leader Sajith Premadasa was refused the use of an office room in the Parliament complex by the Advisory Committee of the party headed by its Leader Ranil Wickremesinghe when they met on Thursday.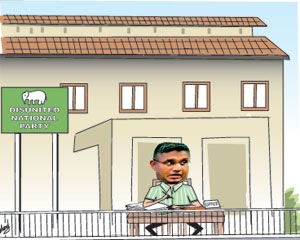 Mr. Premadasa had asked for the room occupied by Co Deputy Leader Karu Jayasuriya in Parliament, but shared by others including the General Secretary Tissa Attanayake and Deputy Chief Whip Dayasiri Jayasekera (who was removed from the post earlier this week), but the request was turned down by the Committee on the basis that the party required a room for all its MPs and that it could not be given only to Mr. Premadasa.
Earlier, Mr. Premadasa was asked to vacate the room he occupied at the party headquarters at 'Siri Kotha'. The Advisory Committee which includes party General Secretary Tissa Attanayake, Chairman Gamini Jayawickrama Perera, Chief Opposition Whip John Amaratunga, Assistant Leader Joseph Michael Perera and National Organiser Daya Gamage had asked Mr. Premadasa to hand over the keys to the room saying that it was required by the party.
When Mr. Premadasa had protested saying that his desk was there, Mr. Wickremesinghe had told him that he was not permitted to bring in personal furniture into 'Siri Kotha' and that the rule applied to all, at which point Mr. Premadasa said "I'm walking out".
The Advisory Committee argued that the room was situated in such a place that when the party headquarters was attacked by a section of supporters soon after the elections to office-bearers was held late last month, the Working Committee members had to evacuate through this room.
Meanwhile, the Advisory Committee decided to launch a national campaign against the government after February 4 titled "Avaneethiyata Viruddhawa" or one against the breakdown of the Rule of Law, the economy, the Advanced Level examinations fiasco while implementing a work plan to rebuild constituency level organisational structures. A separate campaign was the move seeking the release of former Army Commander Sarath Fonseka.
Cabraal clarifies copter caper
Last week's reference in these columns to Central Bank Governor Ajith Nivard Cabraal helicoptering down to a tourist resort in Trincomalee has drawn a response from him. He says: "….I wish to inform you that the helicopter used by me to travel to Trincomalee was not an Air Force helicopter and neither were there any armed security men on board.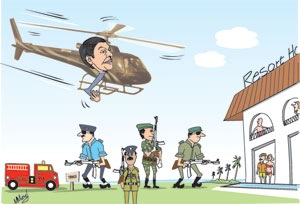 Further, there was no payment for such travel made by any State resources. At the same time, I wish to inform you that there were no "turnout of Air Force" personnel at the location where the helicopter landed.
"May I also inform you that I visited several points of interest in Trincomalee with my family members, and the hotel and other expenses were met by our family's private funds."
Jamis Banda adds: Firstly, I thank Governor Cabraal for his interest in Café Spectator. I stand corrected on his assertion that it was not an Air Force helicopter and hence there were no armed security on board. However, Dr. Cabraal indeed went by helicopter. It belonged to the Senok group, which has ventured into commercial aviation.
As for Air Force personnel being on the ground, he may not have observed them. Nor would he have seen Navy personnel or that a fire engine was at hand. One sometimes misses them when you arrive by air.
MR, Jayalath in New Year war of wit
UNP Parliamentarian Jayalath Jayawardena rang his leader, Ranil Wickremesinghe, to wish him a happy New Year last Sunday.
Immediately thereafter, he telephoned 'Temple Trees' to wish President Mahinda Rajapaksa. Subha Aluth Avuruddak Wewa (A Happy New Year), he said prompting Rajapaksa to say Esema Wewa (the same to you).
Thereafter, Dr. Jayawardena asked whether former General Sarath Fonseka was being given a pardon. Mona pissuda, ehema ekak nehe (What madness. There is no such thing) he replied.
Rajapaksa took the opportunity to invite Dr. Jayawardena to take part in a ceremony at 'Temple Trees' where they were honouring Western Province Governor and veteran SLFP trade unionist Alavi Moulana. It was because the UNP Parliamentarian was the trade union boss of his party. Moulana had turned 80 years.
Dr. Jayawardena said if he were to attend, there would be media reports that he had joined the UPFA. "You know that I will never join the government," said Dr. Jayawardena. Not to be outdone, Rajapaksa replied "we are not going to take you even if you come."
Powerful boss fires fuel at minister's face
He was not just an ordinary Tom, Dick or Harry. He headed a State body that turns the wheels of practically every sector not to mention the kills he makes through his extra-entrepreneurial skills.
This week, he was waxing eloquent in choice unprintable Sinhala obscenities at his Minister when he met a senior official at the Ministry.
Who should walk into his room? The Honourable Minister himself. That he was embarrassed by the remarks, which included challenges to his maternity and paternity, showed in the face. He tried to keep his composure but his apparent discomfort showed.
Of course, the man who was making all those abuses changed gear at once. "Welcome Sir," he shouted loud only to receive a shaky nod from the Minister. Fuelled by the remarks, the Minister was shivering in anger.
(For updates you can share with your friends, follow TNN on Facebook, Twitter and Google+)