Is it a covenant never to be consummated?
by Kumar David Writes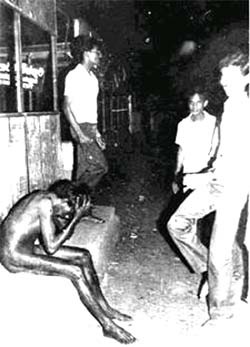 The national question in Sri Lanka has remained unresolved for 36 years short of a century if you start counting from 1948. This is the date to set the start as it was then that the Upcountry Tamils were disenfranchised and their citizenship robbed by the Senanayake-Bandaranaike UNP government. The history of the next 64 years is well known and oft repeated; it is redundant to recount it. I will only flag important milestones: the enslavement of plantation labour in 1948-49; Sinhala Only, and B-C & D-C Pacts, made to be broken; the 1972 Constitution, the 1976 Vattukotai Resolution and JR's 1978 Constitution; the 1983 pogroms and the flight overseas of Tamils; the rise of the LTTE, civil war and in 2009 its annihilation. That's the storyline in a nutshell.
I made this summary not for my usual purpose of theorizing that the state in Sri Lanka, over a period of time and events, has mutated from the post-colonial liberal democratic model to a semi-authoritarian Sinhala State. My objective in this essay, irrespective of which community is right and wrong, and which numbskull politician is to blame, is to draw attention to the stubborn longevity of the conflict and to pose a different question. Can this problem ever be resolved? Does sheer persistence compel us to conclude that something is ingrained in Lanka's DNA? Should we conclude that there is no way out on any road we have trodden thus far seeking exit from this labyrinthine maze?
I have no intention of pointing you to a preferred answer, or persuading you to say yes or no. My mind is open to possibilities and today I am asking you to think along with me.
The fundamental reality
If something drags on seemingly forever, surely it is not enough to blame individuals alone; it is not adequate to provide subjective explanations alone. It may be a common view, and largely correct, that Banda was a chauvinist, JR an unmitigated racist, and Prabhakaran a psychopath. But if you say that the fundamental reason that the ethnic conflict remained unresolved in this island for six decades is the mind-set of these slime balls, detestable though they be to some, I do not agree. They are the trees, and yes there are trees in the forest, but what about the woods themselves? 
Let me try an analogy. There are those who say that the collapse of global capitalism in recent years is the fault of Allan Greenspan, or greedy bankers, or debt prone governments. But do such subjective explanations go to the heart of the matter? These excuses are offered by apologists for the system, the capitalist system. Now don't get me wrong, I am not using this as a handle to get my usual anti-capitalist wedge into the discourse. The point I am making is that for large systemic events it is not adequate to trot out subjective explanations. It is absurd to suggest that if Bluespan instead of Greenspan had been Fed Chairman, if the bankers had been prim ladies, or if governments starved electorates instead of pandering to them, all wound be hunky dory. Nonsense! These worthies would have been compelled to do like the others by financial and political pressures, or been kicked out.
If Banda has said "Parity of Status" and NM had said "Sinhala Only," the latter would have been PM and policy would have been the same as it has actually been. There is only that much that can be assigned to the role of the individual. The way things have turned out is more to do with the big picture objective role of national and racial consciousness, class forces, and selfish struggles of communities for material goodies, and only comparatively less to do with the role of particular leaders. If Prabhakaran had drowned in his youth in VVT harbour, there would have been others to take his place and an LTTE type armed rebellion would have followed JR's 1983 pogroms, and years of military atrocities, both before and after that, in Tamil regions.
What then?
This brings us to the 'What Then?' question which has two parts: (a) Lenin's 'What is to be done?' or 'what should we do?' and (b) what I have been hinting at above – that is, let us be realistic about what can be done by individual or political intervention. To begin with the second part, we need to acknowledge the strength and influence of racist consciousness and chauvinist forces in our body politic. I do not believe that they can be easily or quickly defeated in the mass area; the problem lies with the people themselves. I do not subscribe to the 'good people bad politician' delusion which holds that the masses are ever so good, but rotten and corrupt politicians mislead these poor, gullible sods. No, there is a more complex patron-client relationship at work; so let us take good measure of our limited cloth before we try to cut-out our work programme.
Then back to (a) What is reasonable to aspire to in the short term? President Rajapaksa has blamed Tamils for refusing to continue with his Parliamentary Select Committee (PSC) confab.
"The PSC is a good approach. Its members are legislators and their proposals will find wide acceptance. It is important the TNA participates with the honest intention of finding a political solution, but it is not nominating members. Sampanthan is scared of somebody; the TNA is going to America complaining.  It was steered by the LTTE in the Prabhakaran era and now by the diaspora of second and third generation Tamils, worried that if a political solution emerged their host countries will send them back."
The last comment is dotty, but if the TNA played along is it reasonable to expect that a formula agreeable to both communities will emerge? If it is less than substantial devolution the Tamils won't have it, and if the TNA agreed, it will be pushed out and others will rise to leadership. (Recall my Banda-NM hypothesis). With the LTTE now gone any Sinhalese who says devolution is a stepping stone to secession is dissembling; he/she does not want the Tamils to have devolution for deeper psychological reasons.
(For updates you can share with your friends, follow TNN on Facebook, Twitter and Google+)