Rajapaksa Dynasty And Their Education Qualification Saga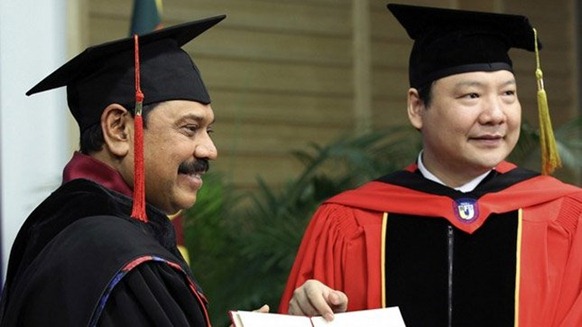 In 1999, the Ravaya published an article under the byline Mahinda Rajapaksa which analyses the provincial council elections results. The late Jeyaraj Fernandopulle asked me who wrote that. I said it was Mahinda Rajapaksa, and he laughed heartily. Everyone around us were very curious about that and asked, "Why are you laughing?" He asked MPs and journalists who were in the parliament corridor at that time to come near him and said "listen! listen! Uvindu says that the Ravaya article was written by Mahinda, how could he analyse statistics since he managed to fail even his Ordinary Level maths! Don't be stupid, I know his capacity he was with me in the Law College, I even know how he passed the law exams,  Karunajeeva or Sunimal Fernando must have written this article for him."
Now, last week Colombo Telegraph published a story based on WikiLeaks which says; Percy Mahendra Rajapaksa did not complete his advanced level exam. The cable which is classified as "CONFIDENTIAL" details biographic details on Sri Lanka's fifth President Percy Mahendra Rajapaksa. The cable was written on November 21, 2005 by the US Ambassador to Colombo, Jeffrey J. Lunstead.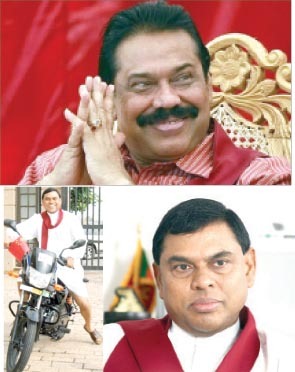 Mahinda was described as "JUST A COUNTRY LAWYER" by the Ambassador.  He wrote to Washington, "Percy Mahinda Rajapaksa was born on November 18, 1945 in Verukatiya, in the Hambantota District, the third of SLFP founder-member D. A. Rajapaksa's eight children. (An older brother Chamal is also an SLFP MP, while two younger brothers, Gotabhaya and Basil, had been living in the U.S. but returned to help with their brother's campaign for the presidency.) He was educated at Richmond College in the southern district of Galle (where his father reportedly had to engage a Sinhala tutor to boost his son's proficiency in his native tongue), as well as Nalanda College and Thurstan College in Colombo. He did not complete his Advanced Level ("A levels") education, instead he left his job as a clerk at the library at Sri Jayawardenapura University in the Colombo suburbs in 1970, to run for his late father's seat representing his native Hambantota in Parliament. …Taking advantage of a decision by the then Justice Minister to allow MPs to enter law school – whether or not they had the necessary educational qualifications – Rajapaksa graduated from Sri Lanka Law College in 1974."
There are hundreds of comments under the Colombo Telegraph posts, people who are supporting and opposed to the Rajapaksas debating the issue of his education. There are plenty of political leaders who do not have proper educational qualifications. So why should Rajapaksa? That is the main argument from the supporting camp. Yes, it not a problem. But, on one hand does the public know about their ruler's education? Does he admit his school results, if yes, then it can be a great example of courage and determination. On the other hand someone like him needs good educated advisors. What about his chief advisor? His chief presidential advisor and economic development minister who is also his brother was expelled a couple of times from his college in Galle. Another US Ambassador, Robert O. Blake wrote in confidential cable on May 15, 2007, "According to Embassy contacts, Basil advises the President on an array of topics despite his limited education and lack of relevant work experience…Basil was also educated in Matara and Galle. According to his school friends, he was expelled a couple of times from his college in Galle." (see colombotelegraph.com for the full cable)
Now what? These are the people who rule the country. Blake wrote, "Fear that Sri Lanka Freedom Party (SLFP) stalwarts are disloyal has caused the President to lean more heavily on his brothers than on party insiders for support and advice. The President tends to postpone decisions and at times avoids decision making, as well as potential blame for unpopular decisions, by delegating many responsibilities to his brothers… The fact that Sri Lanka has one of the largest Cabinets of Ministers in the world, 53, perversely has contributed to the centralisation of power in the Rajapaksas' hands because many ministers have overlapped or undefined responsibilities. Successive constitutional changes over the last three decades have concentrated on a progressively larger share of power in the President's hands…The resulting confusion has meant that most important issues are handled by the President and his advisors, not by the ministers. The President himself holds ministerial portfolios including Finance, Defense, Ports and Aviation. He thus directly supervises over a hundred government departments and administrations. Together with discretionary Presidential spending powers, he personally controls over 60 percent of the national budget. His brothers lived out of the country until just before the election in 2005. As a result, they have a limited understanding of the Sri Lankan public's concerns and few contacts within the country's elite. This isolation has meant that almost all important decisions are made by a small inner circle with limited exposure to input and ideas from the country's public or elite."
Another US Ambassador Patricia Butenis wrote in a confidential cable on November 17, 2009, "Sri Lanka's formal process for economic decision making is focussed on the Finance Ministry, but included input from line Ministries and private sector. The GoSL has over 100 Ministries, and many Ministers hold their office for purely political reasons. If a Ministry plans to change economic policy, it must first seek approval from the National Planning Commission in the Finance Ministry. If approved then it makes a formal request to the Finance Ministry. In reality, economic decisions are often made by President Rajapaksa and his brothers, with input from a handful of trusted economic advisors. A number of well connected business leaders and academics agreed that economic decision making is opaque, but key decision making is made by a very tight circle, usually President Rajapaksa and his two brothers." (See colombotelegraph.com for the full cable).
Robert Blake wrote, "Embassy contacts say Basil has no close advisors and more enemies than friends in Sri Lanka because he makes a habit of trying to 'buy people.' …Basil worked for the Ministry of Mahaweli Development, where he earned the nickname "Mr. Ten Percent" for demanding a ten percent commission on every project. Basil continues to be accused of significant corruption in his current position."
Ambassador Butenis wrote prior to the presidential election 2010 "President Rajapaksa's chief opinion pollster Sunimal Fernando – who is a good contact of the embassy on other issues – shared with us the first findings from their initial survey. Many voters saw the Rajapaksa family as corrupt (85 percent) and the president himself as corrupt (80 percent)."
This is the level of international reputation we have. One day if someone is able to hack Chinese Embassy cables we will be able to find 'shocking stuff'. Under the subheading "Discord Between the Brothers" Robert Blake wrote "Basil and Gotabaya appear not to get along very well. Many have remarked that they rarely appear in public together, seem never to attend the same meetings, and at times offer the President conflicting advice. For example, when the GSL was reviewing bids for construction of a proposed new port in Hambantota, Basil and Gotabaya endorsed different Chinese companies. In the end, the President had to split the work between the two companies to appease his brothers."
So, how can the country run with uneducated and corrupt people? Although later denied by former president Chandrika Kumaratunga (CBK),  Ambassador Patricia A. Butenis wrote to Washington in a confidential cable,  "President Kumaratunga found the Rajapaksa family involvement in politics very distasteful and called them 'uneducated and uncultured rascals'. She worried that the political climate since her term had become "vindictive and threatening" and that Rajapaksa had 'muddied the thinking' of masses." Some people simply say CBK's comments on the Rajapaksas are just aristocratic displeasure. But how can they analyse comments from a subaltern leader like Somawansa Amarasinghe? In another "confidential" cable Ambassador Butenis wrote, "Amarasinghe was very critical of President Rajapaksa, saying he had a very narrow vision and an inferiority complex, which stemmed from the fact that he was not from one of the traditional power families. As a result, he suspected everyone, especially 'learned people.'"
Blake wrote, "A presidential advisor told us that leaders like the President, who are not from the political elite, have two options. They can either be revolutionaries and try to destroy the aristocratic system, or they can join the system and try to create their own dynasty. The President has chosen to pursue his own dynasty. Namal, the President's eldest son, is often mentioned as a possible political successor to his father. A separate Embassy contact told that the President is reluctant to call snap elections because he knows Namal wants to run for a seat in parliament."
But sadly President Rajapaksa managed to place a black mark on his young energetic son and heir apparent Namal Rajapaksa's face. The scandal of Namal Rajapaksa, receiving favoured treatment by the authorities at the Sri Lanka Law College at his attorneys-at-law final examinations grabbed media attention earlier this year. Thushara Jayarathna, another candidate at the exam, alleged in complaints made to the police, Law College and even the then Chief Justice, that Namal Rajapaksa had been accommodated separately in an air-conditioned room with internet enabled computer facilities to sit for his examinations. In the present political climate of Sri Lanka, the courage of Jayarathna's decision to go public does not need to be reiterated. He has not only faced physical harm and intimidation for his trouble, but also received no justice either from the Law College or the Sri Lankan courts.
(For updates you can share with your friends, follow TNN on Facebook, Twitter and Google+)