Letters 'delivered without stamps'
Sri Lankan postal department will remove disputed French stamps with pictures of LTTE Leader and logo, before delivering the letters and parcels says the Post Master General of Sri Lanka.
"We will take actions to protect the sovereignty of the country whilst protecting the rights of the general public to receive letters without any trouble," the head of the postal services MKB Disanayake told BBC Sandeshaya.
"I have instructed the staff to record the details of the receiver with the disputed stamps and remove the stamps before forwarding the items to the destination," he added.
As a member of the Universal Postal Union practices Sri Lanka is bound to follow the international code of conduct with postal services.
When questioned whether the department is entitled to remove a stamp without the consent of the receiver Mr Disanayake responded that even there are questions about the issue, the department will take action to protect sovereignty of the country.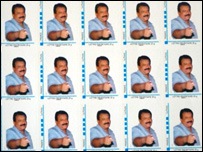 "So far we do not receive any items with these disputed images, but will take action to protect the receiver's right whilst safeguarding sovereignty of the country," he said.
The French postal department, La Poste issued number of stamps and some of the stamps bear an image of slain LTTE leader Velipullai Prabhakaran, while others display the Tamil Tiger's logo.
Customised order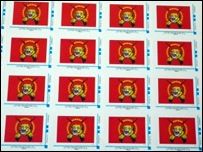 These stamps were printed as a part of customised order from Tamil diaspora in Europe.
It is reported that the Sri Lankan Foreign Minister has summoned the French Ambassador in Colombo to protest.
"France strongly condemns all forms of terrorism throughout the world and the French government could in no way have supported an initiative aiming at backing the LTTE, a movement which has been listed since 2006 as a terrorist organisation by the European Union," French Ambassador in Sri Lanka, Christine Robichon told Daily Mirror on the 05 January 2012.
(For updates you can share with your friends, follow TNN on Facebook, Twitter and Google+)