'Boat people' to Australia caught by Navy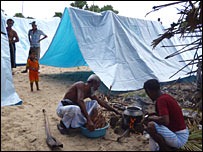 The Sri Lankan navy says it has seized a fishing boat which was to be used by 22 Sri Lankans trying to flee illegally to Australia.
The would-be emigrants were arrested last week; 14 are in custody while four other people suspected of trying to arrange their departure have now been detained.
The Sri Lankan authorities say these people, most of them Tamil, were being exploited by human traffickers, and have told people not to fall prey to this.
Boat people
Some have been released but most have been remanded in custody for two weeks.
Four months ago another fishing vessel was intercepted carrying a larger number of Sri Lankans, 44. The authorities are not happy with the fact that citizens are still leaving the country, albeit in lower numbers than just after the civil war.
In the past, international human rights groups have said they are fleeing political persecution. Others including the International Organisation for Migration say economic factors play a major role.
Economic migrants
A Sri Lankan source who did not want to be named told the BBC that many people here feel they'll have better economic prospects abroad, and said some Tamils felt especially insecure about their future, with particular economic difficulties in the former war zone.
In the past, though not on this occasion, the Sri Lankan government has accused some would-be emigrants of being linked to the Tamil Tigers.
Tough rules
Australia, said to be these people's target country, is trying to toughen up its rules.
(For updates you can share with your friends, follow TNN on Facebook, Twitter and Google+)