Ex-U.S. Diplomat Writes How-To Book for India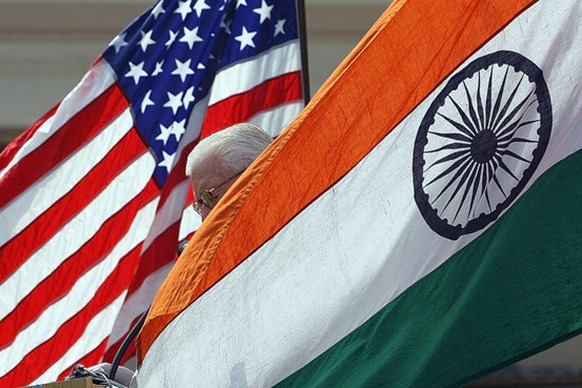 Indranil Mukherjee/Agence France-Presse/Getty Image
Is India really China's nightmare and America's dream?
India in the coming years might be better off protecting its industries rather than opening up to free trade. It should pressure Sri Lanka to kick out the Chinese and become a kind of vassal state. And it must stop relying on IT outsourcing, which enriches U.S. companies at India's expense.
No, these are not the prescriptions of a  conservative Indian think-tank but key points in a surprising new book by a former U.S. diplomat, William H. Avery.
Mr. Avery, now a business consultant, served at the U.S. Consulate in Chennai in the 1990s, a time when India's relations with the U.S. nosedived following New Delhi's nuclear tests.
The Clinton administration responded to those tests with short-lived economic sanctions but within years Washington was negotiating a civil nuclear pact with India. Mr. Avery opens the book with this see-sawing policy to illustrate how, in his view, the U.S. response to India often has been short-sighted.
"China's Nightmare, America's Dream: India as the Next Global Power," published by Amaryllis, an Indian company, aims to be a kind of how-to book for Indian policymakers looking to build on recent economic successes to make their country a truly global power. An empowered India, he argues, could take the place of a fading United Kingdom as Washington's global ally.
"India possesses the same core values that underpinned the Anglo-American relationship: democracy, human rights, the rule of law and the free market," Mr. Avery writes.
The book, while thought-provoking, is high on hyperbole and contradicts itself in parts. Mr. Avery, in one chapter, compares India's reliance on IT outsourcing – that is solving U.S. companies' IT problems – as a kind of colonial servitude.
It's a fair point that IT outsourcing is draining India's brightest minds from pursuing innovation. But to compare the industry to India's plight under the British empire, when the country exported raw materials and imported goods manufactured from those materials, is a step too far. (India, for instance, runs a large trade surplus with the U.S.)
"Today," he writes, "India is falling in to the colonial trap all over again, except this time it is doing so willingly."
At another point, Mr. Avery argues that India should think about more — not less — protection for its nascent industries at a time when its markets are growing and the West is stagnant. The U.S. and other foreign countries, in pushing free trade, are "preaching a system that is clearly in their interest, but not so clearly in the interests of developing countries."
Mr. Avery makes little of the huge economic advances India has made after it allowed more foreign competition through economic reforms in 1991. Instead, he contends the "License Raj," the 40-year period during which India's government doled out permits to control certain industries, played a key role in building strong Indian companies.
Perhaps his most eye-raising prescription for India is how it must eject China from Sri Lanka. Mr. Avery worries that India's economic growth since 1991 has not been matched by a commensurate increase in its global political power.
Mr. Avery describes how India just stood by and watched as China moved recently to build a port at Hambantota in Sri Lanka, just off India's southeast coast. India must respond to the challenge of an authoritarian China, he says, by spending even more on defense and using economic coercion to influence its neighbors.
(For updates you can share with your friends, follow TNN on Facebook, Twitter and Google+)