Sustained Sri Lanka boycott campaign draws attention of GAP, WP
"They were holding up signs that read, "Victoria's Dirty Little Secret" and "Big GAP in ethics" in front of Banana Republic and the Gap, warning shoppers to check labels, lest they buy clothing made in Sri Lanka, where they say human rights violations are continuing and Tamils are being forced off their land by the government," said an article appearing in Washington Post (WP) Thursday on the boycott Sri Lanka campaign a group of Sri Lankan and South Indian Tamils have been conducting regularly in Washington suburbs for the last two years. The wind was piercing, but under a banner that read "Stop Tamil Genocide" they had their cause to keep them warm, the paper added.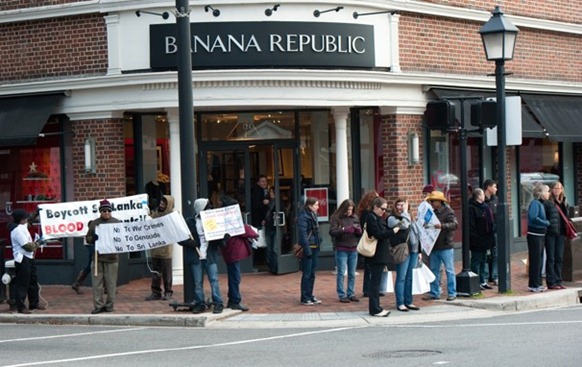 Meanwhile, the GAP, aware of the negative publicity from the campaign in GAP-centric consumer populated areas, published in its website, that GAP is "closely monitoring the peace and reconciliation process in Sri Lanka, and is seeking to ensure our Code of Vendor Conduct is being adhered to by factories producing Gap Inc. branded apparel."
While the protest campaign is on rights violations and war-crimes, GAP appears to pretend that the issues were non-discriminatory hiring practices, and work conditions, the protesters said, adding that the thread of concern behind the posting was clearly the negative publicity from the protest placards.
pdf: Washington can be a frontline for international combatants
The campaign activists told the paper of the danger their relatives face from the Sri Lankan state, which the protesters alleged, was watching the protesters identity and the efforts the Tamils take to avoid attending Sri Lanka embassy functions.
"They [Sri Lanka State] can target you," one protester who was wearing a disguise with sun glasses told the paper.
Sri Lankan Ambassador Jaliya Wickramasuriya, who recently came under a lot of criticism in Colombo media for not admitting to the escalation of the number of rapes in Sri Lanka, said in an interview that Tamil American groups are usually fronts for the Tamil Tigers, a rebel movement long on the U.S. list of terrorist organizations. "We work with the U.S. and FBI to try and figure out who is connected and who is not," said the ambassador, who added that he thinks most Tamil Americans just want to help rebuild the country. "The diaspora is very active in Washington, and it keeps these issues alive, even when people back home have moved on," the paper said quoting Wickremasuriya.
"Ambassador's veiled threat in attaching badge of terror to all activist Tamils, will not likely deter the protesters, and secondly, he will have to be cognizant on future possible libel actions that cannot be overcome with defense of diplomatic immunity," a protester responded to the threat.
External Links:
WP:
Washington can be a frontline for international combatants
GAP:
Social Responsibility: Sri Lanka
(For updates you can share with your friends, follow TNN on Facebook, Twitter and Google+)