Sri Lanka report not enough to change PM's mind on summit boycott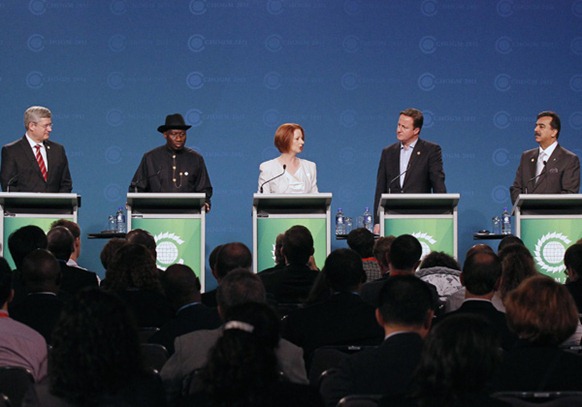 (montrealgazette) Canada remains steadfast in its intention to boycott next year's Commonwealth Summit in Sri Lanka unless "real progress" is made in that country following its reconciliation report that Canada says failed to address human rights concerns stemming from the civil conflict in 2009.
A spokesman for Prime Minister Stephen Harper said Thursday that actual change must occur on the heels of the reconciliation report before Canada opens its mind to attending the 2013 summit in Colombo.
"This is a question of words versus deeds and it has to be backed up by action," said Andrew MacDougall. "We do need to see real progress . . . unless progress is made, we will not be going to those meetings."
Foreign Affairs Minister John Baird issued a statement earlier Thursday saying, "we have seen a lack of both accountability and meaningful attempts at reconciliation on the part of the Sri Lankan government," and noted that "decisive action" is needed in that country.
"Canada remains concerned that the report does not fully address the grave accusations of serious human rights violations that occurred toward the end of the conflict," Baird said in the statement. "We continue to call for an independent investigation into the credible and serious allegations raised by the UN Secretary-General's Panel that international humanitarian law and human rights were violated by both sides in the conflict.
"The government of Sri Lanka must demonstrate the principles of freedom, democracy, human rights and the rule of law."
Baird did say, however, that there were some signs of progress, including "recommendations in some areas of concern, including reconciliation, the rule of law and demilitarization."
Sri Lanka is accused of war crimes and human rights violations in the final months of its civil war with the Tamil Tigers in 2009. The country has refused to allow an international investigation of the charges.
With Colombo set to host the next Commonwealth Summit, this has become an embarrassment for some in the Commonwealth, who say that their organization — by allowing Sri Lanka to host the next meeting — is losing credibility.
(For updates you can share with your friends, follow TNN on Facebook, Twitter and Google+)