Sri Lanka war study 'disappointing'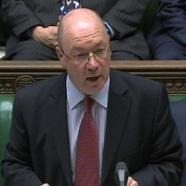 (UKPA) The Government has been left "disappointed" by some of the recommendations of a report into Sri Lanka's civil war, the Foreign Office said.
Foreign Office Minister Alistair Burt said the Government welcomed the publication of the Lessons Learnt and Reconciliation Commission (LLRC) report. The review was commissioned by the Sri Lankan government in May 2010 to look into the conflict between the government and the Tamil Tigers.
He said the LLRC report concluded the root cause of ethnic conflict had been the failure of successive governments and recommended devolution. Mr Burt said he urged the Sri Lankan government to implement this quickly.
But while Mr Burt said the Government agreed with this and a number of the report's conclusions and recommendations, he said it was felt lacking on the issue of accountability.
In a written statement to Parliament, he said: "The British Government is, on the whole, disappointed by the report's finding and recommendations on accountability.
"Like many others, we feel these leave many gaps and unanswered questions. We welcome the acknowledgement that 'considerable civilian casualties' occurred during the final stages of the conflict and the recommendation specific incidents require further investigation.
"But we note many credible allegations of violations of international law and human rights law, including from the UN Panel of Experts report, are either not addressed or only partially answered. We believe video footage, authenticated by UN Special Rapporteurs, should inform substantive, not just technical, investigations into apparent grave abuses."
Mr Burt said the Government welcomed recommendations on ongoing human rights violations and called for "vigorous" implementation. He said the "success or failure" of the LLRC would be judged on this section.
But he added: "On accountability, implementing the report's recommendations would represent a useful first step. But we continue to believe it is important that an independent, credible and thorough mechanism is put in place to investigate all allegations of grave abuses."
(For updates you can share with your friends, follow TNN on Facebook, Twitter and Google+)