Karan mocks at Kareena Kapoor!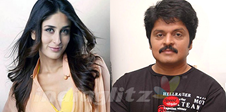 Don't get your ideas wild, we're only referring a south commercial the duo has signed.
The 'Thambi Vettothi Sundaram' actor, Karan, got lucky and shot with B-town's top notch actress Kareena Kapoor for a two-wheeler commercial where Kareena plays a sales girl who takes Karan on a test drive, after the fun ride Karan mocks at Kareena, "The scooter is good but your Tamil is bad!"
While enjoying the instant success of an automobile major's television commercial which featured him with Kareena Kapoor, Karan is all praise for the Bollywood actress, saying she had no ego hassles while shooting for the ad.
"We shot for the advertisement a month ago in Mumbai. Kareena was co-operative and extremely friendly. Since I knew Hindi well, I had no issues while interacting with her and other members of the team," Karan says.
Giving other details of the ad, the 'Kokki' and 'Karuppasami Kuthagaidharar' actor says, "It was directed by Pradeep Sarkar and the camerawork was by Natraj (who played the lead role in 'Milaga'). We shot for two full days for this 45-second commercial."
Karan is now looking forward for 'Sooran', being helmed by Balu Narayanan. "The shooting is over and the film would hit the screens next month," he says, adding that he is in talks with a couple of filmmakers for fresh projects.
(For updates you can share with your friends, follow TNN on Facebook, Twitter and Google+)